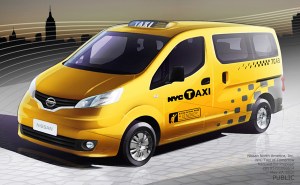 When the iconic Checker Taxi cabs stopped buzzing around New York's streets in the 1990s, the eulogies were many. Will the same accolades follow for the utilitarian Crown Victoria, when it is replaced in the next few years?
Since 2007, the Bloomberg administration has been in the hunt for the Taxi of Tomorrow, the first purpose-built cab to ever take to the city's streets. Last year, the city solicited manufacturers for prototypes, and three were selected today as finalists, with models coming from Ford, Nissan and Turkish truck maker Karsan. The new vehicles look much more like souped-up commercial vans than the sedans that have preceded them. This has to do with capacity as well as accessibility, a new preference on all cabs [see below]. And though these are bigger than their predecessors, fuel-efficiency is also a priority, and each exceeds the gas-guzzling fuel economy of the Crown Vics.
A winner will be selected by next year, and new models are expected to hit the streets by 2014 (just in time for the mayor to leave office).
"While the City has long set the standards for our taxis–including working to make our vehicles more fuel efficient–the City has never before worked with the auto industry to design one taxicab specifically for New York City, until now," Mayor Michael Bloomberg said in a release. "We want New Yorkers to take part in this process and tell us the features they want to see in the Taxi of Tomorrow."
You can do that here.
SLIDESHOW: THE TAXIS OF TOMORROW–AND YESTERYEAR
UPDATE: Assemblyman Micah Kellner has decided to share his thoughts on the new taxis directly with The Observer. Apparently, two of the three cabs are not fully accessible as currently designed. The assemblyman, who has sponsored legislation calling for a fully accessible fleet in teh coming years, urges the Taxi and Limosine Commission to make this a requirment of the Taxi of Tomorrow.
"Choosing a purpose-built accessible taxi will change the way people get around the city and will go a long way toward reducing the enormous cost of paratransit that is such a burden on our city and state budgets," Kellner said in a statement. "If the Mayor can't choose an accessible vehicle, he needs to go back to the drawing board."
UPDATE: Jimmy Vacca, chair of the City Council's Transportation Committee, weighs in a release:
"The challenge before the TLC is clear. Taxi riders of tomorrow are looking for durability, access for the disabled, safety, comfort and sustainability. Can one vehicle address all those requirements and be the iconic representation of our city? That's the million dollar question! I look forward to hearing from New Yorkers on what they want the taxi of the next decade to look like for New York City."