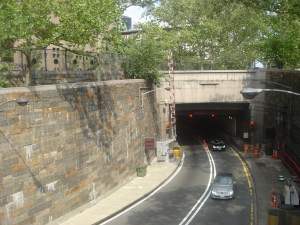 Do you hear that? It's the sound of a thousand commuters throwing their heads on their horns in exasperation at the mouth of the Queens-Midtown Tunnel.
Not only will they spend precious minutes of family time waiting for the slightest signs of motion, but it turns out this vital piece of infrastructure belongs in a museum — and not just because it's seven decades old.
To commemorate the tunnel's 70th birthday, the MTA Bridges and Tunnels division has prepared an exhibition in the lobby of 2 Broadway chronicling the tunnel's construction, including pictures, models and memorabilia.
Make no mistake, the fact that a septuagenarian tunnel built for $58 million that once carried a little over 4 million people a year now accommodates nearly 30 million is pretty remarkable.
The tunnel was finished Nov. 15, 1940, with a 3,000-person sunset ceremony and a story on the front page of The Times. Among the many memories to cherish is that it almost deflated the monumental ego of Robert Moses. The master builder swore loudly that the tunnel would be a massive boondoggle that would never recoup its cost — until they finally made him the head of the Triborough Bridge and Tunnel Authority. As it turned out, the tunnel started turning a profit its very first year.
There's nothing The Observer loves more than a juicy Robert Moses story, but that doesn't mean we have to be happy about the tunnel as a modern-day piece in the city's failing infrastructural puzzle. It was already closed last month for repairs like fixing potholes and repairing concrete. Even when traffic is running relatively smoothly, sitting at the tunnel's mouth honking one's horn has become a cherished Murray Hill tradition.
It must be said that the Queens-Midtown Tunnel is in better shape than many projects of its era. But that's not something to be particularly happy about either. Given that building it was the largest local make-work project at that time, maybe fixing it could keep a few unemployed construction workers busy in this one. Just sayin'.
SLIDESHOW: The Midtown Tunnel Turns 70.
lkusisto@observer.com