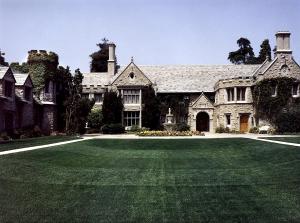 Financial troubles at the iconic porn mag Playboy have led Hugh Hefner to invite ten strangers into his famous mansion. In an effort to increase sales of the magazine, which plummeted 34 percent last year, Hefner is hosting a Willy Wonka-esque contest in which ten "golden tickets" will be randomly distributed in copies of the next issue of Playboy.
Playboy editorial director Jimmy Jellinek confirmed that Roald Dahl's classic children's novel Charlie and the Chocolate Factory was the inspiration for the promotion in a conversation with Reuters.
"This is the first time we've literally swung the doors open … the average reader will go home with stories they can't tell their wives and girlfriends but will last forever," Jellinek said.
The issues containing the "golden tickets" hit newsstands Friday. Access to Hefner's palatial Beverly Hills mansion and its stable of buxom Playmates is normally reserved for the 84-year-old publisher's high-profile friends.