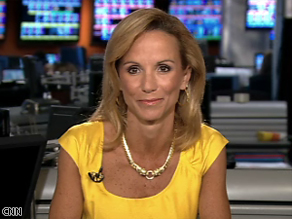 –From muscling terrorists to sipping cocktails on a wraparound terrace with Central Park views, there's no question Frances Fragos Townsend is enjoying her retirement. Ms. Townsend will pay $4.98 million to purchase a Lexington Avenue townhouse from an impenetrable LLC. The 49-year-old former prosecutor was George W. Bush's Homeland Security adviser from 2004 to 2007, which makes her by far the longest-running holder of that position in its brief (and, shall we say, not especially successful history). Ms. Townsend is now a CNN talking head and is married to lawyer John Townsend, though his name is not on the deed.
But this is no time to talk politics, when there are mahogany, limestone and oak floors at stake, not to mention 10-foot ceilings on the usually cramped Upper East Side. The three-bedroom condo was originally listed by Corcoran for $5.65 million, before there have been a couple of price cuts and the listing was eventually taken over by Sarah Parsons and Arline Tarte of Brown Harris Stevens.
—Mark Handler, the former top Macy's VP who saw the department store through some of its darkest days in the early `90s, has sold his apartment at 142 East 71st Street for $4.2 million. The apartment was originally two six-room apartments, combined into a sprawling nine-room pad, which will now be home to wealthy banker Dorone Farber.
–Oh, to be the head of a small insurance empire and we, too, could have $7 million condos for every season. Douglas Libby, the president and CEO of the Seneca Insurance Company, and his wife, Marianne Johnson have sold their three-bedroom co-op at the Majestic on Central Park West. Dedicated real estate gazers will recall that the couple closed on the place just a little over 10 months ago. They did manage to turn a small $300K profit on the sale, but we doubt they needed it. The condo, which previously belonged to hedge fund mogul Bill Ackman, has been sold to an LLC, so its run of moderately famous and fabulously wealthy power buyers (at least that we know of) has come to an end.
–The apartment that belonged to late Prudential Douglas Elliman broker Ruth Dubin and her husband Seth Dubin, a partner at Saterlee Stephens Burke & Burke, has sold for $5.5 million. The buyer is New Jersey plastic surgeon Richard Scharf.