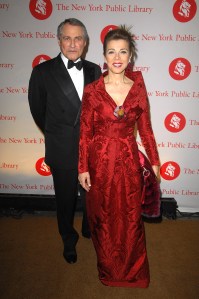 –Master dealmaker Christine Wasserstein once sold her $27.5 million place at 1030 Fifth Avenue in a single fateful week in May 2008. Now, she has worked her magic as a buyer. The pyschoanalyst, who got her old apartment in her divorce from deceased New York publisher Bruce Wasserstein, has bought a place just next door, at 1035 Fifth Avenue, for $7.75 million.
The new apartment was unlisted, so we can't tell you if Ms. Wasserstein is as nimble a buyer as she was a seller. She did scoop up one of the more expensive units in the building, though, with one notable exception being this still-available $10 million gem. She also faced a formidable foil in seller Clive Chajet, who's unfortunate nickname is "The Brandmeister." Mr. Chajet's image consulting company has sleeked up such fuddies as Wendy's and Nissan, and he seems to have worked the same magic on this apartment, where he and his wife, Bonnie, have lived since the 1980s, according to city records.
–The battle over Lionel Pincus' Pierre Hotel apartment–it of the rumored $21,000 candlesticks–has been one of The Observer's favorite guilty pleasures, what with the royal lawsuits and all.
Yet that was not the only duplex the recently deceased financier owned. His estate just sold a 7,000-square-foot, $12 million place that's only modest by gazilllionaire venture capitalist standards. While Pincus' Pierre Hotel treasure trove was once listed for $50 million, this spot at 733 Park Avenue fetched pretty close to the asking price of $12.5 million. It went into contract in May. The buyer of the apartment, with 16 rooms and views of Park Avenue and Central Park, is CES Trust.
Corcoran broker Joan Kaplan declined to comment.
UPDATE: The eagle eyes at The Real Deal actually spotted both of these deals first.
lkusisto@observer.com