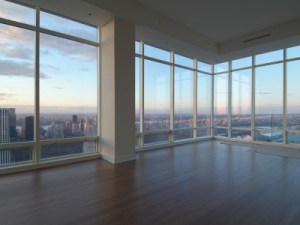 —One Beacon Court, famed for its flips, has scored its most soaring turn yet. A stunning 44th-floor place has sold for $15 million — more than the most recent listing price of $14.75 million. The seller is a one-time Philip Morris senior vice president Marc S. Goldberg, who The Observer imagines won't get too dizzy over the extra 250K for a 3,000-square-foot spot and sky-high views.
Update: The Wall Street Journal reports the buyer was Ukranian businessman Alexey Kononenko, who won a bidding war.
The building has scored a few jaw-dropping sales, including an $18.5 million penthouse deal they said couldn't be done and director Joe Roth's $17.75 million sale. This particular unit sold for $13.5 million at the beginning of 2008, so the owner will turn a tidy profit.
SLIDESHOW: 151 East 58th Street
–Nothing against tobacco execs (O.K., well, maybe a little), but when instead an anti-cancer crusador scores a comfortable pad it warms The Observer's heart and makes the cold task of poring through city records a little bit nicer. Dr. Michael Wigler, whose fine work on the genetics of cancer we won't even pretend to understand, has bought a $2.2 million apartment at One Fifth Avenue (also the title of a novel about the idle rich by The Observer's own Candace Bushnell). The building is one of the most unique and beautiful in the city, a rare skyscraper in Greenwich Village. Dr. Wigler will also enjoy the largest two-bedroom apartment in the building. For once, we don't even hope the plumbing leaks.
—Kurt Bock, chief financial officer for BASF Chemical Corporation, which dominates the chemical industry and by extension the world, has bought a by-that-standard modest $1.95 million condo at 17 Cornelia Street in Greenwich Village.
–In case there was any doubt what one needs to do to afford a $6.6 million apartment, founding several different banks apparently helps. Gerald Katcher created First National Bank of Hialeah before selling it in 1977, going on to create United National Bank, which was then acquired by Mellon Financial Corporation in 1998. The seller, Edward M. Greenberg, is not clipping coupons either, having served as a telecommunications analyst for Morgan Stanley. The penthose apartment at 1160 Park Avenue was listed for $7.1 million, making it one of a number of sweet luxury deals to be had lately– though not quite as good as these.
—Philip Turbin, the director of Credit Suisse's investment banking arm, has nabbed an Upper East Side apartment at 340 East 72nd Street for $2.6 million. The exec and his wife, Andrea Turbin, will take quite a leap uptown from their current digs at 343 East 30th Street. The seller is Samuel J. DeSanto, a Manhattan architect whose got some sleek interior office designs to his name. Surprisingly, the prewar apartment cum courtyard is modest in its design aspirations, looking very much like every lushly carpeted spot in the area with a couple of fine chandeliers. But at least it's proximate to Sotheby's Auction House, in case the new owners should be in need of some new furnishings.
lkusisto@observer.com