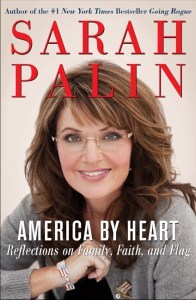 As if just reading Sarah Palin's new book America by Heart: Reflections on Family, Faith and Flag wasn't painful enough, Salon's Justin Elliott has tallied up every time The Thrilla From Wasilla mentioned certain names, words, or phrases. For those not planning to pick up a copy of the book – it's nothing more than a "collection of bumper sticker slogan" occasionally interrupted by "inspirational quotes from members of the conservative pantheon," Elliott relays – this list of the most-referenced entities serves as an entertaining and telling summary.
So what does Sarah Barracuda choose to focus on? Well, there's this "God" guy – he gets a cool 100 mentions in the thing, easily leading the pack of personalities. Tied with "God" is "freedom," which is probably boosted by oft-used phrases such as "freedom isn't free" (three mentions for that bon mot!). Then there's Ronald Reagan, who Elliott reports is mentioned at "every possible opportunity (eg: 'Ronald Reagan once quoted Abraham Lincoln as saying … ')." He's at 33 mentions, and our current president is at 32.
But Levi Johnston, the Palin-daughter-baby-daddy whom Palin was once so taken with, has only one mention in the book. Whatever could the context be? Read the book and find out! Or, actually, don't.
nfreeman [at] observer.com | @nfreeman1234