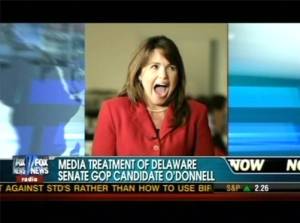 Having suffered a dispiriting loss in Delaware's U.S. Senate race, Christine O'Donnell was forced to eat up all that extra food at her "celebration" party and then mope all the way home. But after all the energy the media expended on O'Donnell — the most-covered candidate in this year's elections — the bumblebee costume-wearing, Tea Party-supporting, witchcraft-practicing politician can't just disappear, can she? Is there a certain cable news channel that may want to get her on air?
Well, for those under the impression that Fox News hands out anchor gigs to every failed conservative savior with bangs and a pretty face, the gig is not a go. Mediaite has the news — the exclusive news, it strains to emphasize for some reason — from a Fox News spokesperson that the network has "no plans to hire her."
It's a bit of a stretch to push the "exclusive" tag when a candidate who lost by 17 percent doesn't get a high-profile news job immediately after. But, then again, we know better than to question O'Donnell's bewitching allure. It takes a certain type of person to convince 1.2 million people to read about an otherwise unimportant drunken romp three Halloweens ago.
nfreeman [at] observer.com | @nfreeman1234