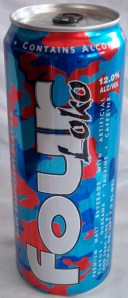 The geniuses at Next Media Animation have done it again. After the FDA mounted a national attack on the caffeine in Four Loko, the Taiwanese animated news specialists have turned their gaze toward the Skittles-flavored "blackout in a can." The saga opens with Loko'd-up teens stumbling around a party, throwing trash cans at each other and engaging in whatever else the kids do these days. Then, all of a sudden, someone wakes up in the gorilla cage at the zoo! Wow, if we had a nickel…
Then we're off to the lab, where a white-coated FDA agent inspects the odious liquid by dumping it into a sink. When released from the can, the computer animated Four Loko glows a neon green, bright and electric. Quite life-like, really!
Numb the pain of the ban by watching the video below, and reliving the glory days when Loko was legal.
nfreeman [at] observer.com | @nfreeman1234