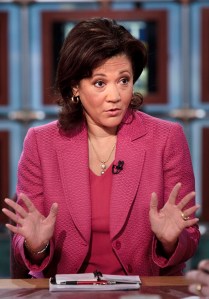 Michele Norris is the first black female to host a major weekday show at NPR, but there was no mention of her in This Is NPR, a book celebrating the 40th anniversary of the public radio organization.
Norris told the Tampa Bay Tribune that she was "disappointed" by her omission from the book.
"You have to ask NPR why it happened," Norris said.
The "All Things Considered" host was invited to contribute an essay to NPR's anniversary tome, but she was busy writing her memoirs and her name wasn't included anywhere in the 272 pages of This Is NPR.
NPR spokeswoman Dana Davis Rehm told the Tribune that it "was an inexcusable mistake."
"She should have been in the book," Rehm said.
Norris joined "All Things Considered" in 2002. The incident comes as the public radio network faces a firestorm of criticism following the firing of senior news analyst Juan Williams.
Williams, who is African-American, was given the axe after making controversial comments about Muslims on Fox News' "O'Reilly Factor." Following his ouster, Williams wrote an angry, 1,529 word essay that criticized NPR for a lack of "diversity of opinion, ideas or a diversity of staff."
"I was the only black male on the air," Williams wrote.
Williams is now a full-time contributor at Fox News.