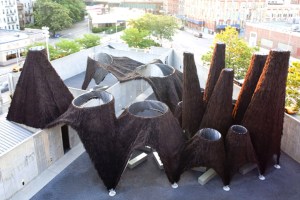 Every year, New York's design community eagerly awaits the announcement of the Young Architecture Program, a sort of kingmaker for burgeoning firms. The winner of the competition then creates–the architects must not only design but build–the summer pavilion for the MoMA P.S. 1 Warm-Up series.
The program is now entering its 12th year, and past winner have included such now-prominent firms as SHoP (Atlantic Yards, East River Esplanade), nARCHITECTS (the Switch Building), WorkAC (Dianne Von Furstenburg, Edible Schoolyard), and last year's winner, SO-IL (Derek Lam, Sukkah City). It can be quite the springboard to success.
MoMA has just determined its shortlist for the 2011 competition, and The Architect's Newspaper has the names:
From Brooklyn the firms are FormlessFinder, Interboro Partners and Matter Architecture Practice. MASS Design Group comes from Boston and IJP Corporation Architects are based in London.
The mix is usually local with a few out of towners, so this is par for the course. Interestingly, the prize always seems to go to the local faves, even though last year among the entrants was Danish darkhorse Bjarke Ingels (now of Durst pyramid fame.) The Observer's money is on Interboro or Matter, as they have a decent amount of cred already–rarely is the winner a total unknown–but whoever comes out on top, and even those who don't, likely have a bright future ahead of them. Attention builders. These are the names to watch.