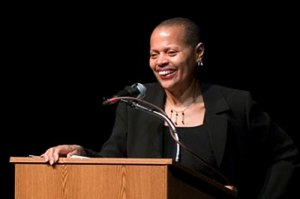 The author of the novel Push, whose film adaptation Precious swept the awards season last year, has sold a second novel to Penguin Press to be published next summer, Publisher's Marketplace reports.
Sapphire, née Ramona Lofton, is a New York poet who sold her first novel to Vintage at auction for $500,000 in 1995. The second novel is titled The Kid and focuses on the son of the main character from Push "as he approaches manhood — alone, brutalized and with the soul of an artist."
Push received a huge sales boost from the movie, partially because its full title was Precious: Based on the Novel "Push" by Sapphire. Sapphire is also the author of three collections of poetry.