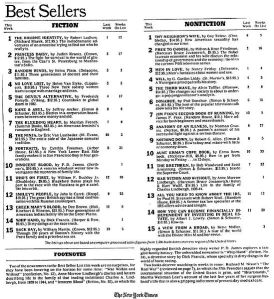 Get ready to see "New York Times Bestseller" on the e-cover of your e-book.
Citing the "vibrant growth of digital publishing," the paper said today that it will begin publishing e-book fiction and non-fiction bestsellers in the paper, starting in early 2011.
"The best-seller list is an essential part of the Book Review, and we're excited we'll be able to give readers newer and more complete information," Sam Tanenhaus, editor of the Book Review, said in a release.
The Times' print bestseller list —that's weird to write— is, of course, the authority and its methodology is a closely guarded secret. The move is significant in that right now it's exceedingly difficult to tell what's selling well on e-readers, given factors like the wealth of free books available on them.