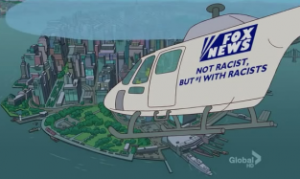 Last night, The Simpsons took aim at Fox News in the very first scene of the episode, via a decal on a helicopter owned by the network, proudly proclaiming "Not racist, but #1 with racists," as if it's the network slogan.
The couch gag for the episode mocks another Fox property, Avatar, and soon after the Fox helicopter deposits its passenger, a group of media elites injects Jeff Zucker with an experimental virus.
The episode is available below, via Hulu.
This is far from the first time that the show has mocked Fox News — it was a running gag in an episode where Krusty the Clown runs for Congress — nor the first time this year that they've bit the hand that feeds them. An couch gag earlier in the season, scripted by guerilla artist Banksy, lampooned the show's prolific merchandising.