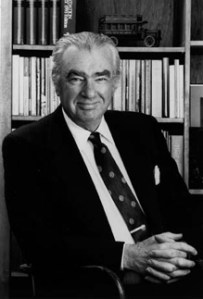 From atop his family's Time Magazine empire Henry (Hank) Luce III watched the latter half of the 20th century go by. But the view from his $7 million Sutton Place duplex was scarcely less thrilling.
Luce, who had three ex-wives and an even bigger collection of cast-iron toys, had plenty of space if he wanted to store either in his five-bedroom, six-plus-bathroom co-op. Even by the exclusive standards of 4 Sutton Place, which has a mere 14 floors and 10 units, the 10th- and 11th-floor apartment is a pricey prize. With bold red walls and the river right outside the window, it was used by Luce's fourth wife, Leila, to host 60-person soirees for the city's literati.
Luce, who gave up collecting art because it was too expensive, had no such scruples about luxury real estate. He also purchased a place for his niece at East 54th Street.
The fearsome publisher took over Fortune in 1968, becoming publisher of Time a year later. He also oversaw the construction of the Time & Life Building at Rockefeller Center. When he died five years ago at the age of 80, his wife, Leila, continued to live in the apartment until she passed away in 2009.
The apartment was listed in September 2009 and rode a bumpy luxury market. It started at $7.5 million and went into contract just a month later, but then it was re-listed with an even dearer $8 million price. Brown Harris Stevens brokers Mary Rutherfurd and Leslie Coleman declined to comment.
The place finally sold to venture capitalist Philip Sassower and Susan Oppenheimer Sassower. You may recall, dear reader, that this spring the couple sold their full-floor apartment at 720 Park Avenue to philanthropist Jamie Tisch for $22 million, down from a whopping $33 million. Hopefully now that $11 million price chop doesn't smart quite so much.
lkusisto@observer.com