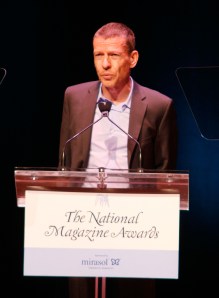 Gerald Marzorati, the New York Times' assistant managing editor for new media and strategic initiatives, doesn't know why people pay for subscriptions to his paper.
Marzorati made the surprising claim during a panel discussion at the Digital Hollywood New York conference. He pointed to the fact that only 0.01 percent of subscribers canceled home delivery after the paper hiked prices five percent during the recession as evidence that his readership doesn't realize that they're overpaying for news that's available for free online.
"We have north of 800,000 subscribers paying north of $700 a year for home delivery … I think a lot of it has to do with the fact that they're literally not understanding what they're paying … That's the beauty of the credit card," said Marzorati.
Marzorati's candid remarks surprised the panel's moderator, former MySpace CMO Shawn Gold.
"This is the last panel your company will let you on," he said, possibly joking.
After the panel, Marzorati told Forbes media blogger Jeff Bercovici that he didn't mean to imply that Times readers are being ripped off.
"All he meant to say, he explained, is that customer retention is always better in an opt-out situation," Bercovici wrote.