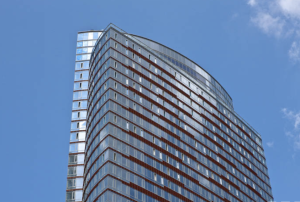 Ever since Al Gore first gave an overly long Power Point presentation, green has become more than a color. A veritable lifestyle movement in its own right, "living green" now says as much about your love for tree frogs as it does what kind of car you prefer. And now, for New Yorkers, "living green" can also speak to where you decide to live.
Battery Park City's Visionaire recently became the city's first LEED Platinum-certified apartment building. In fact, it's the first residential building of its kind on the East Coast. Yet it is not only the earth-friendly features of the building that will attract the environmentally conscious (and well-to-do, surely) New Yorkers. There are also the amenities — a skylit pool, a social club, a sauna-and-yoga-studio-equipped fitness center — and best of all, those incomparable Battery Park City views of New York harbor.
Nowhere do they look better than in this three-bedroom, three-bathroom penthouse, just listed by the sponsor for $4.455 million. One of only five top-floor units, it is on the south side of the building, offering not only the best light, but also the best views of Lady Liberty. Hurry before a greeny with more green snaps it up.