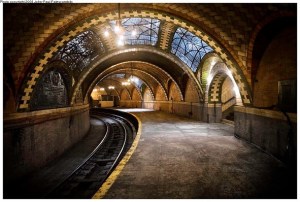 While it's still illegal to check out the Underbelly Project, the unfinished Brooklyn subway station that a bunch of street artists recently turned into a gallery, New Yorkers need no longer sneak around to see another underground gem.
There is a station hidden beneath City Hall Park, the former terminus of the original IRT subway. Because of its choice location and pioneering significance, the IRT made City Hall Station its most sumptuous stop, a loop of tiled ceilings and wrought-iron columns. It closed, however, in 1945, after longer trains were added and the station could not accomodate them.
The MTA continued to use the station as a turnaround for the 6 train, and daring subway nerds would duck down for a glimpse as the Lex departed the Brooklyn Bridge stop.
All that has changed, however, as Jalopnik points out that riders are now welcome to to take a trip around the City Hall loop. The Observer checked with an MTA spokesman who confirmed that this is indeed now legal.
Now if you'll excuse us, we have a train to go catch…