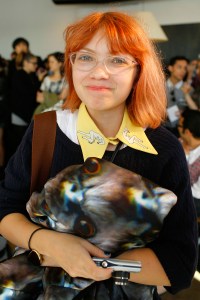 Tavi Gevinson, the 14-year-old behind the popular "Style Rookie" fashion blog is starting a magazine with Jane Pratt.
Gevinson revealed the plans for the site in a note posted on her blog Friday.
Pratt's prior magazine ventures Jane and Sassy were both praised as antidotes to the shallow materialism of other women's titles. Jane and Sassy helped Pratt develop a devoted following among women who came of age during the late nineties and early aughts. Jane began in 1997, it was named after its creator. Pratt left her eponymous magazine in 2005 and cited "wanderlust to do new things" as the reason for her departure. Jane folded almost exactly two years later.
Sassy, which ran from 1988 until 1996, brought Pratt together with her teenage protege. Gevinson was born the year before Sassy ceased publication, but she became familiar with the magazine through back issues and blogged about the need for a similar title for her generation. Pratt found out about Gevinson's admiration for Sassy and sent the young blogger an email. The pair eventually met in person and hashed out the idea for "a magazine for an audience of wallflowerly teenage girls."
According to Gevinson, the new project won't be an attempt to recreate either of Pratt's other glossies.
"Of course, it won't be Sassy (or the rebirth of Sassy, or Sassy 2.0) and nor do we want it to be … The world has changed a bit in the past 15 or so years and that whole Internet thing happened, and this world calls for something different," Gevinson wrote.
For now, the pint-sized aspiring editrix said she could only offer "vague details" about the project, because it's still in an early planning phase. Gevinson and Pratt are hoping to move forward quickly with their as-yet-untitled magazine. In her note about the venture, Gevinson asked writers who are interested in being (unpaid) contributors to send her samples of their work by the end of next week.
"We wanna get moving!" Gevinson wrote.