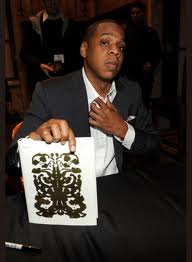 Jay-Z's new memoir, Decoded, was released last week in the midst of an advertising campaign and publicity tour as massive as Shawn Carter himself. David Droga and his Droga5 ad agency have plastered Hova's visage all over the city as a part of a massive and multifaceted ad campaign, while Jay himself stops to by chat at places such as The Charlie Rose Show (or, rather, Rose stopped by The Jay-Z Show).
But what about the book itself? The notoriously barb-tongued Michiko Kakutani, book critic for The New York Times, offered her take on the King of Hip-Hop's anecdotes and self-analysis. The verdict? It looks like she really liked it!
In the end, "Decoded" leaves the reader with a keen appreciation of how rap artists have worked myriad variations on a series of familiar themes (hustling, partying and "the most familiar subject in the history of rap — why I'm dope") by putting a street twist on an arsenal of traditional literary devices (hyperbole, double entendres, puns, alliteration and allusions), and how the author himself magically stacks rhymes upon rhymes, mixing and matching metaphors even as he makes unexpected stream-of-consciousness leaps that rework old clichés and play clever aural jokes on the listener ("ruthless" and "roofless," "tears" and "tiers," "sense" and "since").
High praise coming from Kakutani! The only true complaint from the critic was over the time spent annotating "a comical, party-down song like "Big Pimpin'." However, the book provides a Kakutani with a crucial translation of the song's hook. "'Cheese' and 'cheddar,' the casual hip-hop tourist will learn, translate into'money,' the review explained.
So Jay-Z isn't just a Camembert connoisseur? Who would have thought!