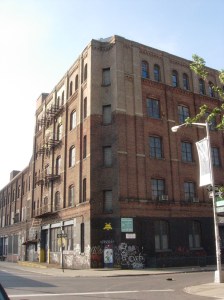 The corner of North 11th Street and Wythe Avenue in Williamsburg looks much the way it has for decades–a hulking red brick factory building covered in graffiti and grime. It stands in stark contrast to the shiny new condos and even the gritty new loft conversions that surround it, some just across the street. That is because unlike the nearby hives of hipster activity, this building is on the wrong side of the street, so to speak, part of the Williamsburg-Greenpoint Industrial Business Zone, a 20-block area straddling Wythe Avenue near the waterfront.
The idea was to preserve at least a slice of the neighborhood's historic industrial sector, but now that Jed Walentas and Two Trees Management hope to transform the 11,105-square-foot site on Wythe into a boutique hotel, it could spell doom for its manufacturing neighbors.
If this story sounds familiar, it should. It played out most notably with the Trump Soho, the 48-story condo-hotel in Hudson Square that was built on land zoned for manufacturing use through a loophole that allows transient hotels in manufacturing districts–a loophole the Bloomberg administration has repeatedly declined to close. It has also created problems for neighborhoods like Gowanus in Brooklyn and Dutch Kills in Queens, both of which saw a spate of hotel development in recent years.
Manufacturing advocates argue that by continuing to allow such shadow residential development into industrial areas, prices will continue to rise to levels factories and warehouses can no longer afford. Walentas makes exactly this point to the Journal today, in an article about the project:
Jed Walentas, principal at Two Trees Management, said that there were no other industrial businesses competing to buy the building when his company purchased the property. "I disagree that a hotel is not a productive thing to have there," he said. "I think a hotel is an amazingly complimentary use."
Yet part of the reason no other industrial businesses could compete was because the price for the property was likely out of their price range–thanks in no small part to people like Walentas who are willing to pay more because they know they can turn the property into something like a hotel. Sure, the globalization argument, that all the companies are now in China, could be made, but the New York Industrial Retention Network and other groups insist this is not the case, that there is plenty of demand for manufacturing space. The problem is it has grown so unaffordable.
It is true Williamsburg has changed, and a hotel may be more befitting the area than a defunct warehouse. But the Bloomberg administration set this land aside for industrial purposes five years ago. To reverse course–and give the project tax breaks no less, as it is considering doing–seems to make no sense. Either strengthen industrial protections or do away with them entirely. To leave all these gaping loopholes makes it harder for everyone to do business.