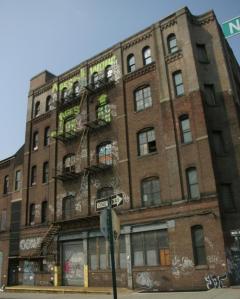 David Walentas and his Two Trees Management made a name for itself–well-worn by now–transforming Dumbo into the BroBo, live-work paradise it is today. Taking a page from his father's book, Jed Walentas is hard at work on transforming a former industrial building in Williamsburg into a luxury hotel.
Granted Williamsburg is well beyond the undiscovered frontier Dumbo was when David showed up a few decades ago. Still, Jed is showing the savvy of his father to see an opportunity where others might not.
Using a loophole in the city zoning code, Two Trees has plans for a new hotel within the borders of the neighborhood's Industrial Business Zone, a designation that is meant to protect and preserve manufacturing but does not prevent hotel construction. The issue is that such properties can typically be bought at a discount because there are some restrictions on their redevelopment, but the potential for non-manufacturing uses still allows for prices to be inflated, making such properties unaffordable to the businesses most in need.
Allowing the project to proceed could further undermine what remains of the area's industrial sector, already priced out and marginalized by the Williamsburg's rezoning in 2005. Should this hotel succeed, along with a few others that have sprung up in the neighborhood, this could become a trend like the one that consumed the Gowanus area of Brooklyn a few years ago.
The Bloomberg administration seems just fine with that, as it awarded Two Trees $15 million in tax-exempt bonds today. Not only is this condoning a project that arguably should not be there, but is providing public subsidies to see it through, in spite of the fact that the number of predicted jobs has been questioned–the city predicted only 53 construction jobs and 33 permanent ones while Two Trees said it would create up to 195 jobs, according to The Journal. One wonders how many jobs a fully functional factory would produce, compared to a 73-room hotel.
Hopefully they won't skimp on the pillow mints, at least.