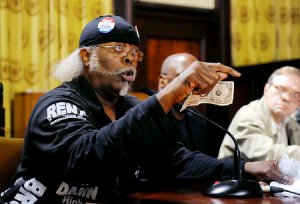 We've seen stars become politicians–think Arnold Schwarzenegger, Ronald Reagan, Jesse Ventura.
But Rent Is Too Damn High spokesman Jimmy McMillan may be the first person (Sarah Palin not included, although that's a little bit different of a case) to turn a political career (such as it was) into stardom.
First there was the news in the middle of the campaign that McMillan was becoming a spokesman for the website BidHere.com. Then, on election day his album was released.
Now McMillan is making videos for Funny Or Die (with someone playing a McMillan alongside him) and guest appearances on Inside the NFL.
Say this for Mr. McMillan: Our would-be governor/mayor sure does seem to be enjoying himself.