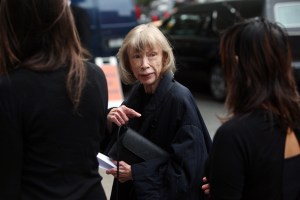 Joan Didion: immensely respected, supremely gifted, a voice that's spanned decades. But will she ever take her talents to, say, the blogosphere? Or does she even read blogs?
"Well, I don't really understand blogging," she told Guest of a Guest at yesterday's luncheon for the new Colin Firth film The King's Speech, at the 21 Club. "It seems like writing, except quicker. I mean, I'm not actually looking for that instant feedback."
This blogging stuff sounds awfully familiar to us, Joan! But you're a writer. Certainly you snuggle up with a Kindle at night devouring the new Franzen — your friends say you just have to read it, but you've been putting it off — and keeping a few other books downloaded and at the ready. No?
"It's one more thing to carry around," she said [of the Kindle]. She said her brother visited her this summer from California and shocked her when she caught him using the device. "They apparently work for people," she said with aplomb.
Apparently! In any case Didion's confirmed aversion to blogging and new-fangled devices confirms that the @JoanDidion Twitter feed is not, in fact, her. But with Tweets like "what's up w/ baby boomers? seems like they suck.. idk" and "if i worked at an ad agency: right now i would be doing my nails while reading jezebel in one of the edit rooms," we had a hunch already.
nfreeman at observer.com |@nfreeman1234