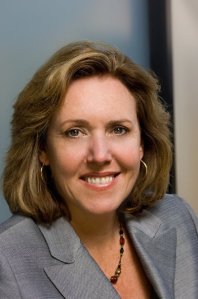 Joan Walsh is stepping down as editor in chief of Salon.com. Ostensibly, Walsh is leaving the highbrow news and culture site to work on a book, but with all of the red ink in the company's SEC filings, it looks like she might also be escaping a sinking ship.
Walsh will be replaced by Salon's executive editor Kerry Lauerman, who joined the site in 2000. The choice to elevate a longtime staffer rather than bring in new blood indicates that, in spite of its poor financial performance, Salon isn't interested in substantially changing direction.
The editorial changing of the guard was announced in an all-staff meeting Monday afternoon led by Salon CEO Richard Gringas from San Francisco. Employees in New York participated via conference call. During the meeting, Gringas also addressed the company's financial situation. Though he admitted that the company is losing money, he told staffers that he expects Salon will be able to continue to grow.
Salon was a pioneer when it launched in 1995, but it currently competes in a much more crowded market and is not turning a profit. In its most recent SEC filings, Salon Media Group showed losses of $817,000 in the second quarter of this year, an improvement on the $1.255 million the company lost during the same period of last year. Including physical property, Salon currently has total assets of $2.027 million, but the company also has $9.477 million in liabilities for a total deficit of $7.45 million.
For now, Salon is staying afloat with the help of loans from investors. Between now and March 31, 2011, the end of the fiscal year, Salon "anticipates continued but reduced operating losses." Salon's second quarter earnings report includes this eye-poppingly vague admission: "Salon estimates it will require between $500 and $1 million in additional funding to meet its operating needs for the balance of its fiscal year. If planned revenues are less than expected, or if planned expenses are more than expected, the cash shortfall may be higher, which will result in a commensurate increase in required financing."
The report also admits that coming up with the necessary cash is in no way a sure thing:
The Company remains dependent upon its two largest shareholders for continued financial support while it seeks external financing from potential investors in the form of additional indebtedness or through the sale of equity securities in a private placement … However, Salon does not currently have an agreement in place to provide any financing, and there is no certainty that Salon will be able to enter into definitive agreements for additional financing on commercially reasonable terms, if at all.
Salon's stock price has dropped precipitously over the last decade. Ten years ago, shares of the company traded for approximately $26. By January 2006, Salon's share price had dropped to $10. As of this writing, shares of Salon Media group are currently trading for $0.10, down from a 52-week high of $0.80 in September.
Lauerman, a well-liked editor, clearly his work cut out for him. We can only wish him well.