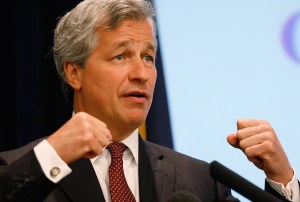 Appearing today before a congressional inquiry panel into the foreclosure meltdown, JPMorgan Chase's mortgage chief David Lowman said it's possible that employees at his firm may have shuffled through some foreclosure work a shade too sloppily.
TheStreet.com reports:
"We do not engage in a foreclosure sale if the modification succeeds or until the modification process fails. […] That is not to say we are perfect – we service millions of loans, and we sometimes do make mistakes. But when we find an error, we fix it."
As JPMorgan Chase representatives have done in the past, Lowman stressed that although JPMorgan may have experienced a few paperwork hiccups, the bank has an extensive process in place to prevent wrongful foreclosures (the bank follows up with a customer 100 times on average from default to foreclosure, for example).
"The issues that have arisen in connection with foreclosure proceedings do not relate to whether foreclosure proceedings were appropriately commenced," said Lowman. "We have not found errors in our systems or processes that would have led foreclosure proceedings to be commenced when the borrower was not in default."
Nevertheless, "We regret the errors that we have discovered in our processes," Lowman said. Not a surprising sentiment for Lowman to express, given that now he's been hauled in front of a bunch of lawmakers to explain what the heck is going on.
mtaylor [at] observer.com | @mbrookstaylor