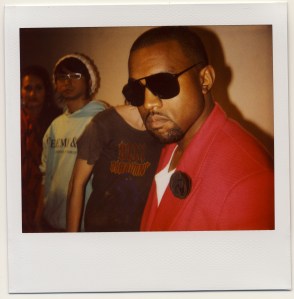 America preys on its pop stars. Kanye West is a perennial victim. He has been scorned by two American presidents, not to mention the rest of the nation. He was asked by Jay Leno–in the midst of an apology to Taylor Swift–what his dead mother would have thought of his infamous insult to her at MTV's Video Music Awards. He was forced to apologize to Matt Lauer for saying, five years ago, that George W. Bush was a racist. The more Mr. West apologizes, the less likely we are to leave him alone. He speaks to this in "Power," a blistering commentary on fame from his new record My Beautiful Dark Twisted Fantasy. "I just needed time alone with my own thoughts," he says. "Reality is catchin' up with me." He sounds delirious with frustration. The music behind him, all fire and brimstone, starts with violent battle drumming, follows with the pierce of a prison siren and moves into the song's hook, a sample of King Crimson's "21st Century Schizoid Man." The song is, in other words, the sound of reality attempting to catch up with Mr. West and failing. "No one man should have all that power," he declares before finally concluding-joyously-"This will be a beautiful death."
Yes, the sentiment is solipsistic and self-pitying, but what else should it be? Prince was not exactly humble when he sang the venomous "All the Critics Love You in New York," nor was Michael Jackson being meek when he made that car explode merely by dancing in the video for "Black or White." Mr. West is hip-hop's most important crossover act in spite of himself. (How many white music critics will praise this album and still feel a tinge of discomfort at the line "In this white man world, we the ones chosen"?) He completes a triumvirate of male pop stars: Like Prince and Michael Jackson, he is self-conscious, defensive and brilliant.
He is also, like them, one of the most vulnerable pop stars this country has produced, a trait Mr. West himself perpetuates through his ubiquity on the Internet. An eloquent, or infuriating, sample from his strangely operatic Twitter feed: "I feel very alone very used very tortured very forced very misunderstood very hollow very very misused." Since August, Mr. West's public escapades have been underscored by his Friday night releases: the G.O.O.D. music series featuring some of hip-hop's greats (RZA, Mos Def, Common and many others). For months, popular culture has had its pick between both of Mr. West's personalities-the musical genius or the outspoken celebrity. Outside of a few music presses, most have chosen the spectacle over the talent (even The Times, in a recent article praising Mr. West, said the comment "George Bush doesn't care about black people" was the "bravest" moment of his career). Fantasy is both a culmination and denunciation of his exhibitionism. Filled with music about Mr. West's ego, the album ultimately overshadows his personality.
"Dark Fantasy," the bombastic opening song, lets us know what his priorities are. The music builds for more than a minute, a huge chorus of voices asking, "Can we get much higher?" before all sound drops out and Mr. West, deliberate and forceful, says, "I fantasized about this back in Chicago," as if what follows is some prophecy meant to wipe out half a decade's worth of negative ephemera. He unleashes a paranoid, associative diatribe both describing and raging against his frustration. "Refresh the page and restart the memory/ Respark the soul and rebuild the energy/ We stopped the ignorance we killed the enemies/ Sorry, for the night demons they still visit me." His words are his only defense, he is saying, but also the source of all his difficulty.
Which is why the best parts of Mr. West's music have often been his beats. His production combines Phil Spector's orchestral wall of sound with all the menace of the early Wu-Tang Clan. No producer has come close to even imitating him properly. (Wu-Tang's RZA, to whom Mr. West owes a great aesthetic debt, has a partial producing credit on "Dark Fantasy"; tellingly, he adapts to Mr. West's more portentous style.) That said, it is surprising how much Mr. West has improved as a rapper. He upstages Raekwon, Kid Cudi, Pusha-T and Jay-Z, to name a few. For the first time, the delivery of his verses fully matches the virtuosity of the music underneath. Think back to Jay-Z's eclipsing appearance on "Diamonds from Sierra Leone (Remix)" from Mr. West's 2005 album Late Registration, in which Jigga materializes to say, "Yep! I've got it from here, 'Ye" (as in, "You have done well, but it should be more like this"). Jay-Z makes two appearances on Fantasy-on one of them we are treated to the otherworldly image of the rapper who once said, "I thug 'em, fuck 'em, love 'em, leave 'em/ 'cause I don't fuckin' need 'em" shouting, "Everyone wanna know what my Achilles heel is/ Loooooove!"
Still, Mr. West outdoes him. He is at his most poetic here ("Penitentiary chances, the devil dances/ And eventually answers to the call of Autumn") but also characteristically clever and funny ("I hit the Jamaican spot, at the bar, take a seat/ I ordered you jerk, she said, 'You are what you eat'"). His cadence, as well, is more impressive than ever. He rhymes "get on top of this" with "pussy in a sarcophagus." At times, as on "Runaway" in particular, his delivery is overwhelmingly emotional. The former is a chilling confession, part ballad and part tirade, half-sung by Mr. West: "I always find something wrong," he admits. The song is structured around a four-note piano figure, one that recalls an entire tradition of popular songs about heartbreak-like "Hey Jude" before it, the nine-minute song is half-pop ballad, half-coda-while still baring the undeniable impress of its creator. Otherwise straightforward lines-"I could have me a good girl/ And still be addicted to them hoodrats"-become affecting in Mr. West's hands. By the time he reaches the chorus-the apogee of an album filled with catharsis-"a toast for the douchebags, assholes, scumbags and jerkoffs," it is tempting to conjure the people that fulfill these roles-Mr. Lauer, Mr. Leno, Mr. Bush and Mr. West himself, in that order-but the song is far too spare and sad; the music transcends and rejects Mr. West's biography.
A death of the author, if you will. Mr. West's death fantasy in "Power" is a way of "letting everything go," he says, including, of course, himself. In an unexpected twist solidifying this point, a sample of Gil Scott Heron's voice closes the album, as one of Mr. West's more frenzied and enormous beats plays underneath: "Who will survive in America?" the voice says. It is fitting for the album, so much about the rapper saying goodbye to all that, to end with another's voice. Indeed, the question of survival is at the heart of Mr. West's music. These 13 songs are all a kind of self-preservation by way of self-denial. He raps about his squabbles, but in doing so, he mythologizes them along with himself. Which is to say that Fantasy will outlive Mr. West and his controversies. Such is the album's bleak truth: America always eats its young in the end. For all his fame and visibility, not even Mr. West will survive.