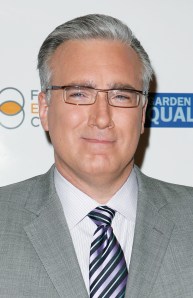 MSNBC host Keith Olbermann donated a total of $7,200 to three different Democrats prior to Tuesday's election. NBC, like many other news organizations, has a policy against its employees making political contributions.
Olbermann gave $2,400 apiece, the maximum allowable by law, to Arizona Reps. Raul Grijalva and Gabrielle Giffords, and to Kentucky Senate candidate Jack Conway. Politico found Olbermann's donation to Grijalva in a campaign finance report filed with the Federal Election Commission.
When Politico reached out to MSNBC for comment, the network forwarded the following statement from Olbermann:
"One week ago, on the night of Thursday October 28 2010, after a discussion with a friend about the state of politics in Arizona, I donated $2,400 each to the re-election campaigns of Democratic Representatives Raul Grijalva and Gabrielle Giffords. I also donated the same amount to the campaign of Democratic Senatorial candidate Jack Conway in Kentucky."
Grijalva appeared as a guest on Olbermann's show on Oct. 28. News of Olbermann's campaign contributions comes amid a controversy over fundraising at cable news channels. Rupert Murdoch gave a $1 million donation to the Republican Governors Association and another $1 million gift to the GOP-friendly U.S. Chamber of Commerce earlier this summer.
Fox News host Sean Hannity was also criticized for letting Ohio gubernatorial candidate John Kasich promote his campaign on his show. Kasich was a former Fox News anchor and regular contributor to Hannity's program. He later claimed that he raised over $21,000 in the 12 hours after his Hannity appearance. Kasich defeated incumbent Democrat on Tuesday. MSNBC has also been called out for allowing on-air fundraising.
In a recent New York Times article on the political activities of cable news channels, MSNBC president Phil Griffin rejected the notion that his network was comparable to Fox News. "Show me an example of us fund-raising," Griffin said in an interview. Last month, MSNBC embraced its liberal identity with the launch of a comprehensive, two-year advertising campaign featuring the slogan "Lean Forward."