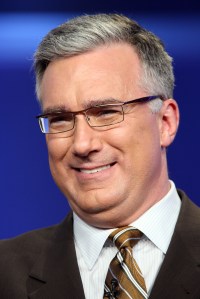 Keith Olbermann's suspension from MSNBC will end Tuesday. MSNBC President announced the decision Sunday night.
"After several days of deliberation and discussion, I have determined that suspending Keith through and including Monday night's program is an appropriate punishment for his violation of our policy. We look forward to having him back on the air Tuesday night," Griffin said.
Olbermann was suspended on Friday following the publication of a story in Politico that revealed his donations to three Democratic candidates in the mid-term elections. NBC policy prohibits MSNBC and NBC News staffers from making campaign contributions without prior approval from the network. Olbermann did not disclose the donations to MSNBC or to his viewers prior to the Politico story.
Olbermann stayed quiet about the controversy on Friday, but he broke his silence on Sunday with a Tweet thanking fans and friends who supported him through his brief ordeal.
"Greetings From Exile! A quick, overwhelmed, stunned THANK YOU for support that feels like a global hug & obviously left me tweetless XO," Olbermann wrote.