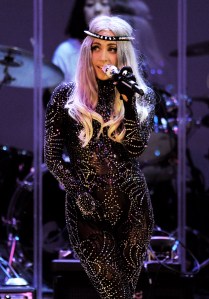 Starting today, 7.2 million people will be deprived of something dear to their hearts: Lady Gaga's Twitter presence. The BBC reports that the world's biggest pop star will silence the site's most-followed account today as part of her hiatus from social media platforms until $1 million is raised for Keep A Child Alive, a charity supporting Aids and HIV afflicted families in Africa and India.
Gaga is just one of many high-profile celebs who have sworn off Twitter and Facebook for the greater good. Alicia Keys, who co-founded the foundation, has recruited Elijah Wood, Jennifer Hudson, Ryan Seacrest and Kim and Khloe Kardashian, among others.
The fundraiser is slated to take place Wednesday, in order to coincide with World Aids Day.
While her Twitter followers – who she refers to endearingly as "Little Monsters" – may empty their bank accounts for the noble cause as they suffer from Gaga Tweet Withdrawal, what about the millions more who want her to stay off Twitter? Can there be a dueling charity we can donate to if we want that to happen?