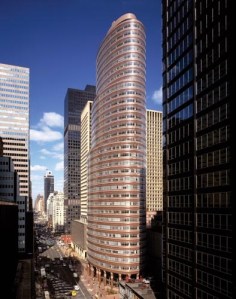 The Lipstick Building rises from the midtown skyline in sleek, tubular perfection. But its falls have been just as dramatic.
Bernie Madoff once rode the gilded elevator to the 17th floor, from which he and a mere handful of employees built one of the biggest pyramid schemes in history. In the last couple of years, while Mr. Madoff's empire of false hopes has been publicly dismantled, the Lipstick Building has suffered nearly that same fate. It was revealed yesterday that the building has filed for bankruptcy protection.
Under the plan proposed in the court papers, lender Royal Bank of Canada's $210 million secured claim will be reduced to $130 million. In exchange, the lender will receive full ownership of the building, now in the hands of an entity known as Metropolitan Real Estate Investors. The building owners are seeking to complete the reorganization by the year's end, according to a press release.
Metropolitan fought to hold onto the Philip Johson-designed 1980s tower, which it bought at the top of the market for $607 million. The owner narrowly averted disaster in 2008, but that was simply a reprieve. Mr. Madoff isn't the only one who's left the building, which is now only two-thirds full. "The recent violent downturn in the building and real estate markets have had a significant impact on the debtor's operations," the company said in court documents. "Vacancy rates have increased making it more challenging to service the debt on the property. Renewal lease rates have also been lower than anticipated."
In June, its biggest lender, Royal Bank of Canada, moved to foreclose because the owners had defaulted on the loan.
The Times once dubbed 885 Third Avenue (or at least the 17th floor of it), the place "where wealth went to vanish." Sadly, it may be easier to auction off the Ponzi schemer's personal items to satisfy his creditors than it will be to bring life back to his former throne.
lkusisto@observer.com