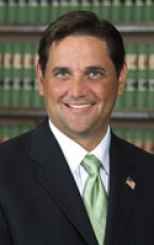 Daniel Van Pelt, former Ocean Township mayor and assemblyman, was sentenced to 41 months by Federal Judge Joel A. Pisano, at the high end of federal guidelines for his corruption crime.
His sentencing comes five months after his conviction on bribery and attempted extortion charges in May, but he fired his lawyers and was given a postponement in August.
Van Pelt was one of 44 arrested last summer in Operation Bid Rig III, the largest corruption bust in state history. He was the only Republican official bagged by government informant Solomon Dwek.
Video evidence from Dwek's tie-cam showed Van Pelt accepting $10,000 in cash from Dwek at Caesars, Atlantic City in Feb 2009. The two were in discussions about the building of the Waretown Town Center.
Van Pelt testified that the cash was a consulting fee, arguing that the line between consulting on a project and acting in an official capacity were two distinctly separate things.