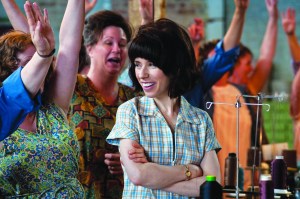 If you were given a choice between seeing the latest supersize Harry Potter installment or a quiet British film with a funny name about a '60s Ford factory strike that spawned the Equal Pay Act, I suspect you'd be lining up for more Dumbledore faster than you can pronounce "Dagenham." (For the record, it's Dag-in-um). You'd also be making a terrible mistake. Made in Dagenham is a retro romp with heart, smarts, soul and wit that will restore your faith in the power of the picket line.
Sally Hawkins, who won a Golden Globe for her role as the bright-eyed, bicycling waif in Mike Leigh's Happy Go Lucky, stars as Rita O'Grady, also a bright-eyed, bicycling waif and one of 187 women machinists who work at the Ford factory in the London suburb of Dagenham. Ford is Dagenham's main employer, and while the company men are housed in a sparkling new facility, the women are relegated to a creaky 1920s plant that leaks when it rains and gets so boiling hot during the summer that they must often doff their clothing and sew car seat upholstery in their skivvies. Despite their considerable talents and miserable working conditions, the women are classified as unskilled laborers and are thus paid a fraction of their male counterparts' salaries.
Enter Albert (Bob Hoskins), the plant's diminutive, avuncular union representative, who chooses Rita and long-suffering shop steward Connie (Geraldine James) to join him in a meeting with Ford's management to discuss the machinists' complaints. (Apart from Rita and Connie, the factory women are more or less divided into two groups: plump, matronly old biddies and bawdy, promiscuous sylphs in hot pants and frosted lipstick.) The local union head, an arrogant blowhard named Monty (Kenneth Cranham), instructs the women to be seen and not heard, but when he shows no loyalty to their cause, Rita speaks up angrily, promising a strike if no action is taken, and establishing herself as a reluctant figurehead for the equal pay movement.
At first, the strike doesn't make much of an impact–Ford has a reserve of finished car seats that allows them to continue production apace, and no one pays much attention to the women's picket line (except when they neglect to unfurl a banner completely, unwittingly announcing "We Want Sex" to passing motorists). But word begins to spread, Rita gains confidence, and soon the machinists are front-page news, inspiring women in other unions to join the protest and even catching the attention of Secretary of State for Employment and Productivity Barbara Castle (Miranda Richardson), a fiery politician who faces her own workplace inequalities.
While early on the machinists are so plucky and cheerful that one almost expects the pigeons in the factory rafters to transform into animated songbirds, there is plenty of gravitas to keep Made in Dagenham from toppling into Disney territory. Ford is ultimately forced to shutter the Dagenham plant when it runs out of finished parts, which leaves thousands of townspeople–including Rita's husband, Eddie (Danny Mays)–unemployed, bitter and struggling to make ends meet. Suddenly, the women find themselves at the center of a media maelstrom, fighting to come out on top despite increased pressure from Ford, their husbands and families and even the prime minister.
Made in Dagenham is based on a true story, and we all know how it ends. (If you don't, Google it–or, better yet, check your pay stub.) But getting there is an absolute joy thanks to Mr. Coles' skillful storytelling and fantastic performances by the entire cast, especially Ms. Hawkins, who is wonderful as the unlikely firebrand at the heart of the movie. "I often wondered what it felt like, to make history," a character says to Rita in a pivotal scene. Let's hope it's at least as much fun as watching it.
ulamarche@observer.com
Made in Dagenham
Running time 113 minutes
Written by William Ivory
Directed by Nigel Cole
Starring Sally Hawkins, Bob Hoskins, Miranda Richardson, Rosamund Pike

4/4