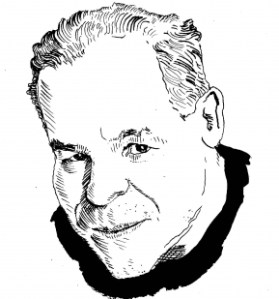 Reading George W. Bush's new memoir, Decision Points, and Lydia Davis' brilliant new translation of Madame Bovary at the same time, I had a sudden illumination. George Bush is Emma Bovary.
Don't turn the page, s'il vous plaît.
The unhappy wife of a prosaic country doctor, Emma Bovary attempts to soar out of her stifling existence on the wings of romantic fantasy. Desperate to inhabit her illusions, she detaches herself from reality more and more as she rushes toward destruction.
Or as Bush/Bovary describes his first visit to Iraq after the American invasion: "Secrecy was so tight that the agents on the ranch were still unaware that I had slipped away for the most thrilling trip of my presidency."
Thrilling indeed. Emma sets her downfall in motion by allowing herself to be seduced by two cads, one a mediocre intellectual who shares her fantasies, the other a cynical landowner who manipulates them. Bush also had two agents of doom, one a mediocre intellectual who shared his fantasies (Rumsfeld), the other a cynical landowner who manipulated them (Cheney).
Emma gets her delusions from romance novels, then proceeds to more intense intoxications like tragic opera and melodramatic poetry, finally graduating to violent pornography as she slips into a steamy affair. G.W.'s romance novel was his dad, the swashbuckling, world-beating former head of the C.I.A., vice president and president of the United States. Reminiscing about the "Day of Fire," which is the swashbuckling name he gives to 9/11, Mr. Bush recalls a speech he made at the time: "'Terrorism against our nation will not stand,' I said. … Later I learned that my words had echoed Dad's promise that 'this aggression will not stand' after Saddam Hussein invaded Kuwait. The repetition was not intentional. … Dad's words must have been buried in my subconscious, waiting to surface during another moment of crisis." Thus did Junior graduate to the violent pornography of war.
But even at war, Mr. Bush projected his self-serving, gauzy misapprehension of the world onto the people and events around him. If there is a more powerful example of the cruelty of romantic illusion than the following passage, I don't know what it could be. Meeting a veteran of the Iraq war who had lost both his legs, Mr. Bush listens as the man, a former runner, bravely vows to run again. Several months later, "I met Christian on the South Lawn. He had two prosthetic legs made of carbon fiber. We took a couple of laps around the jogging track Bill Clinton had installed. … [Christian] did not look at himself as a victim. He was proud of what he had done in Iraq, and he hoped his example might inspire others. … Our country owed him our gratitude and support. I owed him something more; I couldn't let Iraq fail."
A decent man, even if he was a politician, might have resisted the impulse to use a savage maiming to justify what is widely considered an irrational rush to a senseless war. But not only does Mr. Bush Bovarize this man who has lost both his legs as "proud of what he had done in Iraq"–when he had done nothing except lose both his legs, for the sake of nothing–but interprets this personal tragedy as a romantic call for more personal tragedies.
For a while, after the publication of Flaubert's novel in 1857, "Bovarism" was used throughout Europe as a clinical term signifying a fantastical detachment from reality. From Don Quixote, to The Sorrows of Young Werther, to Nostromo, the affliction of romantic delusion fascinated European writers. One of America's less radiant contributions to civilization, however, has been to normalize what Europeans considered an exceptional state of mind. "Romantic delusion" is our middle name. With the ascent of George Bush, we enthroned our national psychosis.
"September 11 redefined sacrifice," Bush writes. "It redefined duty. And it redefined my job. The story of that week is the key to understanding my presidency. … I would pour my heart and soul into protecting the country, whatever it took."
Bovarism is the replacement of one's deficiencies with aggrandizing counterfactuals. This pampered American aristocrat had never made a sacrifice. He had never felt the onus of duty. As for redefining his presidency, he earlier relates that because of his father's tenure in the White House, "my exposure to the presidency had revealed the potential of the job." The potential of the job? G.W. inherited the presidency the way college students get summer work through family connections, and that is exactly how he writes about it. Sitting in the Oval Office was no more exciting than that. Until the "Day of Fire" made the job his own.
After 9/11, he had two "concerns," Bush tells us. The first was "complacency." He was afraid the public "would eventually move on" before the fight was won. A true leader would in fact have wanted the public to move on so that he himself could proceed to other pressing national needs. But not Bush/Bovary. He had finally found the meaning of his lazily bequeathed presidency in the fulfillment of his adolescent fantasy. The former two-term president of the United States isn't certain of much more about himself: "I've been asked if I consider myself an alcoholic. I can't say for sure."
In the end, Emma accumulates mountainous debts as a result of her expensive delusions. Crippled by an unmanageable deficit, she swallows poison and kills herself. From the taxpayers' point of view, I guess you could say she did the right thing. We, on the other hand, and to speak unromantically, should have been so lucky.
editorial@observer.com