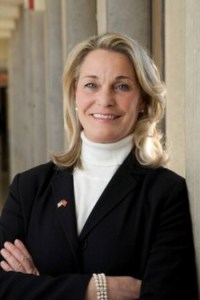 Democratic incumbent Dan Maffei conceded his congressional race against Republican challenger Ann Marie Buerkle today after three weeks of recounts.
The Associated Press reports that Maffei is down by 567 votes, leading to final tally of 104,374 for Burekle and 103,807 for Maffei.
Buerkle was endorsed by Sarah Palin, labeling her a "New York mama grizzly" in her announcement. She started her career as a registered nurse and went on to practice healthcare law and served as assistant district attorney since 1997. Healthcare was a major issue in her campaign and she signed a pledge to act to repeal President Obama's healthcare legislation.
Maffei had only served one term in the largely-Republican district: prior to Maffei, the district had been represented by a Republican since 1971.
The majority of the 11,000 absentee ballots from Wayne, Cayuga and Onondaga counties were some of the last to be counted, and helped Buerkle secure her victory.
Before serving as congressman, Maffei worked for Rep. Charles Rangel in the House Ways and Means Committee from 1999 to 2005.