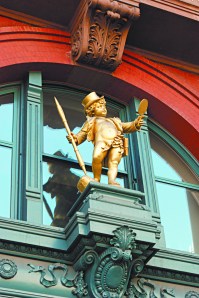 Even in a seemingly dismal age for the printed word, the Manhattan mediascape–all but littered with the shells of publishing enterprises come and gone–at least offers comfort in its constancy, a kind of rapid-cycling eternal flux. Most departed periodicals find themselves entombed in the dusty corners of archives, but a few manage to wedge themselves snugly in the city's physical memory–namely, its real estate.
The Puck Building, at Lafayette and Houston streets, is one of those curiously incarnated few: To most who pass, the Puck of its name has become self-referential, bearing little relation to the magazine that launched it more than a century ago. It's the sort of high-speed semantic drift that's hardly novel to New Yorkers, except that in this case an even older Puck, the Shakespearean woodland trickster that gave Puck magazine its name, has presided over the whole scene.
Each gilded and top-hatted, a crayon in one hand and a mirror in the other, the building's two statues gaze down at the street below with twin smirks of irreverence. It was Puck's line in A Midsummer Night's Dream–"What fools these mortals be!"–that became the motto stamped across each week's issue of Puck, a blithe summation of its unsparing, largely post-partisan brand of satirical ambush.
But Puck's real draw was always the darkly expressive lithographs that exploded across its pages in full color. The magazine's main American predecessor was Harper's Weekly, whose readership swelled during the Civil War, its graphic illustrations lobbing battle scenes into Northern homes with all the force of their finely etched immediacy. While Harper's depended on black-and-white woodcuts, an often cumbersome process, Puck's founder, Joseph Keppler, a Viennese immigrant, had been tinkering with new advances in chromolithography for years–a fact that pushed him toward a lucky juncture of technology and popular imagination.
Photography was quickly defining itself as a force in political life, and the graceful realism of Keppler's caricatures resonated with a public newly conscious of their leaders' every wrinkle and mole. (A New York Times profile of Keppler in 1890 noted that early in his career he was sometimes forced to make trips to Washington in order to sketch politicians by hand, a practice photography soon made obsolete.) Meanwhile, Puck capitalized on new innovations in printing, discovering that the lithographic press was a far more efficient tool for magazine distribution than wood engraving.
Harper's Weekly cost 35 cents an issue; Puck was just 10. By the early 1880s, a decade into its existence, Puck had a circulation of roughly 80,000.
THE IRON AND metal of this novel venture moved into the entire first floor of the massive building constructed in the Romanesque Revival style, starting in 1885. "It is the largest building in the world devoted to the business of lithographing and publishing," noted King's Handbook of New York in 1893, "having a floor-area of nearly eight acres."
Yet even as new technology was collapsing the time and space of geographical distance, Puck's real talent was for fusing a global canvas with a pinpointing exactitude for satirical dissection. The world was Puck's unending source for hypocrisy: Boss Tweed, the Catholic Church, city roadways, the trial of a Fifth Avenue abortionist, Republicans, Democrats, the bloated pageantry of partisan patronage and spoils. (For all Keppler's idealistic mores, he also derided women suffragists and dabbled in ethnic stereotypes.)
Remarking on the Shakespearean Puck's claim that he could "put a girdle round about the earth in forty minutes," the New York Star commented, "Our Puck of New York has achieved greater wonders. He has encircled the hearts of millions with his influence; he has turned away the misdoer from the evil of his ways by the keenness of his wit, and promoted honesty in public life by the satirical slaughter of hypocrisy. This for every week of the year."
In 1884, Grover Cleveland narrowly defeated Republican James Blaine in a highly charged presidential election, a victory some attributed, in part, to Puck's editorial position. The Republicans, in turn, bought Puck competitor Judge magazine and hired off some of Puck's key artists. Puck, which some devotees felt had defaulted on its anti-partisan stance, declined in readership in the following years. William Randolph Hearst bought the magazine in 1917, and closed it entirely a year later.
The Puck Building, in the typical Soho arc, swung from industrial use to artists' lofts to offices to, most recently, its first retailer in more than a century. Recreational Equipment Inc., supplier of yoga mats and athletic gear, plans to open next year, joining other tenants that include N.Y.U. (The building's current owner is Kushner Companies, the firm of Observer publisher Jared Kushner.) In the 1980s and early 1990s, the building hosted a brief reprise of satire, housing the short-lived Spy magazine. Like Puck a century earlier, Spy was a private eye on the prowl for hypocrisies large and small (and a godfather to present-day blogs like Gawker).
Since Puck moved in more than a century ago, the building has added floors, demolished and rebuilt an entire facade and been scrubbed and polished by multimillion-dollar renovations.
But its original Shakespearean sprites have held on, still beaming their gilded mirrors down on the sidewalks below. Though Puck himself, it should be said, wasn't really a Shakespearean invention at all, but a borrowed mythology–because you never do know about the lives of symbols, or what new calls they'll heed in the centuries to come.
egeminder@observer.com