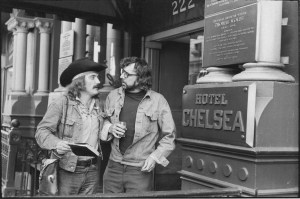 Two punks pushing middle age, a man and a woman dressed in black, sat together on a bench in the lobby of the Chelsea Hotel on the afternoon of Friday, Oct. 29. The room was decorated for Halloween.
Near the couple's feet, three plastic tombstones and some fake bones were arranged beneath a black-and-white photograph of Andy Warhol operating a camera, part of the lobby's permanent collection. "Happy Halloween" was written in fake blood on a strip of marble running across the opposite wall. Next to the bench was a knee-high cylindrical metal trash can with a retired ashtray on top. A small pack of German tourists filed past with rolling suitcases to check in at the desk.
The couple was on vacation in New York City, and the Chelsea was their last stop. Ten days earlier, the hotel's owners–a group of 16 shareholders led by the descendants of three Hungarian men who purchased it in 1946–announced that, after years of bad publicity, abortive management changes and dozens of lawsuits (including some against each other), the icon was for sale.
The man wore a black leather jacket covered in zippers and two oversize metal rings. His hairline receded into long sideburns. "It doesn't exist anymore. They made it into a suite or something," the man told the woman. He was talking about Room 100, now part of Room 103, where the Sex Pistols bassist Sid Vicious allegedly stabbed his girlfriend, Nancy Spungen, to death in October of 1978. "I loved her, but she treated me like shit," he told police when he was arrested. He killed himself with three injections of prime heroin later that year. "Please bury me next to my baby in my leather jacket, jeans and motorcycle boots," he wrote in a suicide note that was found in his pocket. "Goodbye."
The woman in the Chelsea lobby pulled her straight, jet-black hair into a bundle over her left shoulder. Her face was white with powder. "This has been a bad-luck trip," she said.
The man leaned his head back against the wall.
THE CHELSEA SITS fortresslike on 23rd Street, between Seventh and Eighth avenues. When the 12-story building opened in 1883, as a 44-room co-op apartment house, it was the tallest in New York. The Chelsea isn't named after the neighborhood; the neighborhood is named after the Chelsea.
In 1905, it began accepting transient hotel guests, and over the next century, the original rooms were split into 101 apartments–a mix of single-room occupancies and one-, two- and three-bedrooms–and 125 hotel units. Patti Smith, who moved into the hotel with Robert Mapplethorpe in 1969, described the Chelsea as "a doll's house in The Twilight Zone" in her recent memoir Just Kids.
VIEW SLIDESHOW >THE SECRET HISTORY OF THE CHELSEA HOTEL
When other 19th-century hotels like the original Waldorf and the Astoria were being knocked down in the late 1920s, the red-brick Chelsea remained. "It was a boutique hotel before they thought up the name," said Tom McConnell, a broker at the commercial real estate firm Cushman & Wakefield who brokered the sale of the Algonquin in 2005.
The Chelsea's hulking physicality–its L-shaped sign, which can be seen blocks away hanging over 23rd Street; its facade, speckled with terraces–sets the building apart from nearby neighbors like Burritoville, 99¢ Creation and Pet Central. But it's the litany of cultural touchstones in (or formerly in) residence that makes it the Chelsea.
It's where Mark Twain stayed. And Jack Kerouac. And: Thomas Wolfe, Frida Kahlo, O. Henry, Arthur C. Clarke, Willem de Kooning, Henri Cartier Bresson, Allen Ginsberg and Martha Graham. It's where couples from Arthur Miller and Marilyn Monroe to Leonard Cohen and Janis Joplin made love. It's where Dylan Thomas collapsed into a coma in 1953–"I've had 18 straight whiskies. I think that is a record!"–which led to his death four days later in St. Vincent's Hospital.
Upon arriving in New York City in 1964, Christo and Jeanne-Claude stayed in the Chelsea and borrowed money from the front desk to eat. The hotel became known for allowing tenants to pay rent with original works of art, some of which still hang in the lobby. The idea of the Chelsea as a place where beautiful young people took "downies," smoked cigarettes and groomed their bangs crystallized in Andy Warhol's 1966 film The Chelsea Girls. In the year before the movie was released, Bob Dylan, who had written much of Blonde on Blonde while living in a third-floor room, moved out of the building. "When Chelsea Girls came out, it was all over for the Chelsea Hotel," Mr. Dylan said in a 1985 interview. "You might as well have burned it down. The notoriety it had gotten from that movie pretty much destroyed it."
Nostalgic tenants have continued to worry about the Chelsea's legacy. In 2007, after a legal spat, two of the three principal owners, David Elder and Marlene Krauss, concerned over the hotel's management and revenue, wrested control from the third, Stanley Bard, who had run the hotel for nearly 50 years. Mr. Bard embodied the art-as-rent ethos, and his ouster signaled a changing tide. The Chelsea would be run more like a by-the-book business and less like a community of Others living in an antique hotel in the middle of the city.
Mr. Elder moved into a space on the first floor, and someone, in his or her loyalty to Mr. Bard, welcomed him by leaving excrement at his doorstep. The NYPD bomb squad later came to the hotel to inspect a suspicious package sent to him: It turned out to be a fish head in a box. Another resident put on a yellow bathrobe and made a mask from a photo of Mr. Elder's face and stalked through the hotel with a sign that read "TO PREVENT CONFUSION PLEASE BE ADVISED STANLEY BARD IS NO LONGER THE MANAGING AGENT OF THE CHELSEA HOTEL." It was a replica of a sign Mr. Elder installed behind the front desk after Mr. Bard continued to come to work after he was removed as manager. One tenant, Ed Hamilton, posted a photo of the costume on "Living With Legends," a blog he keeps to catalog life in the hotel, including the supposed atrocities of management.
"David is there to watch that things are being done properly," Marlene Krauss, a physician, told The Observer in 2007. "Frankly, it's time that somebody watched what Stanley is doing."
"I want to pass it on to my kids," she added. "I'm embarrassed to pass it on to them now."
Dr. Krauss and Mr. Elder hired Richard Born and Ira Drukier's boutique hotel management company BD Hotels to replace Mr. Bard and his son, David. They also entrusted BD Hotels to plan renovations for the hotel. "It's not the intent to turn this into a boutique-y hotel," Mr. Drukier told The New York Times in 2007. At the time, his company also managed the Mercer, a big-time celeb hangout downtown, and 5,000 other hotel rooms in the city. "Its character is what we need to maintain." (The relationship between Messrs. Born and Drukier and the owners collapsed into legal wrangling over fees–further management shifts ensued.)
Although there is really no previous transaction to measure the sale of the Chelsea against, the owners are hoping the Queen Anne-style building, whose history and lore shriek like marketing banshees, will fetch at least $100 million, according to several sources.
Doug Harmon, a top broker at the firm Eastdil Secured, is representing the owners. Mr. Harmon repped the families that sold the Apthorp on the Upper West Side in 2006 to Maurice Mann and Lev Leviev for $425 million, then a record for a U.S. apartment building. Mr. Harmon is also handling the potential sale of 111 Eighth Avenue to Google, which has its New York headquarters there, for $2 billion in what could be one of the most expensive property sales ever in New York. Mr. Harmon declined to comment.
Finding a buyer for the Chelsea, especially at $100 million, is a giant problem. According to one source inside the building, hoteliers Ian Schrager and André Balazs, as well as the real estate scion Scott Resnick, the sort of buyer who might favor a residential repositioning of the building, have said they are not interested in the property. They all declined to comment.
The timing of the sale and the Manhattan hotel market are not the problem. The market is ripe. Hotel revenue per available room is up 15 percent in 2010 over 2009, and nightly occupancy rates have climbed back above 90 percent this year. There were more than 2,000 hotel rooms under construction or planned in Chelsea in the summer of 2007, and, in spite of the economy, no fewer than 10 new hotels have opened in the neighborhood since the beginning of 2009.
The Chelsea has a leg up on pretty much every other hotel because of its history and its architecture. It also has a great location on 23rd Street, a wide boulevard–albeit one with three Duane Reades in as many blocks. The hotel's value has likely increased with the addition of the High Line down the street, and should continue to grow in 2015 with the arrival of the Whitney a short walk away.
One source intimately familiar with the Chelsea and the local hotel market suggested the building could have gone for twice or three times as much as $100 million three years ago. The source also said that a new owner would probably spend between $50 million and $75 million (between $400,000 and $600,000 per hotel room) renovating the property.
A broker who toured the property recently, but who declined to represent the buyers because of the complexity of the owners' personalities, estimated that the renovation would cost between $100,000 and $150,000 per room. Another broker who toured it and who also declined the listing said $100 million was "a stretch." Eastdil Secured's listing underscores the size of the existing hotel rooms, which a new owner could subdivide to create more revenue-generating units.
"The limiting factor is how much is it going to cost to renovate. If it's $20,000 or $30,000 a room, that's one thing, but if it's $200,000 per room, that's another thing," said Mr. McConnell of Cushman & Wakefield. "It starts getting a little dis-economic at that location."
There is also the headache of renovating a landmarked building, not to mention one whose central design feature–an open central stair–is now illegal in New York City (fire doors have been installed). And then there are the litigious tenants, who will have to be won over–or kicked out.
"To me, the Chelsea without the tenants isn't really the Chelsea," Mr. McConnell said. "I mean, if there's one hotel in New York that you have to sprinkle a grain of salt on when it comes to tenants, it would be that one."