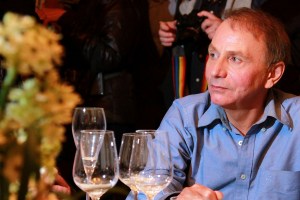 Michel Houellebecq may once have been France's controversy-prone outlaw novelist, but he now resides comfortably within the establishment.
After years of being denied the honor, the writer will receive this year's Prix Goncourt, the AP reports. The distinction — France's top lit award — counts Marcel Proust and Simone de Beauvoir among its recipients.
"After all, I think it was necessary in my life," Houellebecq told a French TV station in between sips of champagne at a restaurant. "In any case, it's a very good thing."
The work for which the prize was awarded, La Carte et Le Territoire, was released in France in September. Controversy accompanied the book's arrival when the French edition of Slate revealed that passages from the novel were lifted from various Wikipedia pages. Houellebecq defended the practice as "patchwork."
In the latest issue of The Paris Review, Houellebecq is interviewed for "The Art of Fiction," the literary magazine's longstanding showcase of the writerly method.
"This represents a sea change in French culture," Paris Review Editor Lorin Stein said in a statement responding to the news of Houellebecq's prize. "More than any other writer, Houellebecq has made the social novel respectable again in the land of Balzac."