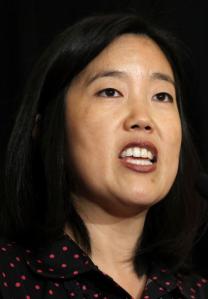 In the very few minutes between the news leaking out that Chancellor Joel Klein would be leaving the city's Department of Education, and the subsequent press conference announcing his replacement, speculation quite naturally centered on former D.C. Chancellor Michelle Rhee.
Rhee resigned her D.C. post last month, and one day later, the New York Post–run by Bloomberg's friend, Rupert Murdoch, who Klein will join at News Corp.–editorialized that New York's schools needed her, calling Rhee's very name "a byword for reform–and for resisting the pernicious influence of teachers unions."
In D.C., Rhee pushed aggressively for the kinds of reforms Mayor Bloomberg has championed, like dispensing with automatic tenure and focusing on student performance. Rhee also said she spoke regularly with Klein to compare notes and share best practices.
But it wasn't Rhee.
And this evening, a spokesman sent along the following statement from Rhee, in strong support of both Klein and his replacement, Hearst chairman Cathie Black.
"Joel Klein's tireless work for New York City's schools and children has profoundly impacted education reform everywhere. He's raised the bar for all of us as we continue our mission to secure an excellent public education for every American child. I wish him the very best in his transition and know that whatever he does he will continue his effort to further the cause of reform."

"I congratulate Cathie Black on taking on this hugely important role. Her experience has no doubt prepared her well for the challenges that lie ahead."
UPDATE: A source close to Chancellor Rhee said rumors that she was offered the job are untrue.
ANOTHER UPDATE: Rhee has penned a slightly more expansive version of the above sentiment in a post on her website.