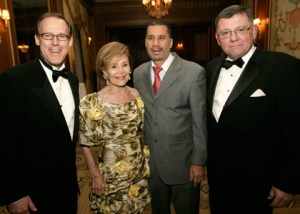 Dorris Carr Bonfigli is the perfect Manhattan socialite: beautiful, charming and terribly unlucky. One of Bernie Madoff's victims, Ms. Bonfigli listed her prized Fifth Avenue penthouse just before Christmas 2008 for $11.3 million. After months on the market and a half-dozen price cuts, the place at 930 Fifth Avenue has finally sold for $7.5 million.
Hosting parties for the city's artistic elite in her 19th-floor abode with a terrace overlooking Central Park, a baby grand tinkling away in the background, was one of Ms. Bonfigli's favorite activities. In addition to the likes of Barbara Carroll and Cy Coleman at the piano's keys, Ms. Bonfigl's circle of friends included Dame Judi Dench and Sir Ian McKellen. The apartment boasts two bedrooms, but if that seems a bit cozy the larger of the two marble bathrooms is as big as a bedroom, according to the Corcoran listing.
But actually selling the place turned out to be not all cabaret tunes and Champagne. The price was cut no less than six times, according to StreetEasy, before going into contract this July. The brokers for the apartment are long-time Corcoran vets Emilie O'Sullivan and Daniel Douglas, so we know it can't have been for lack of trying.
In a sign that the world really has turned upside down these last few years, the buyers are Dutch artists Wouter and Ann Kourijn. Sure, it's a good deal, but are the creative classes really raking in that much cash these days?
lkusisto@observer.com