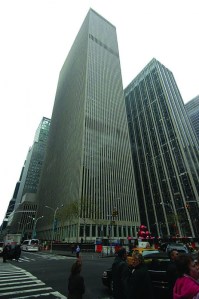 1251 Sixth Avenue
Just in time for the new year, 1251 Sixth Avenue is poised to fill one of 2010's biggest holes.
It was reported in January that its major tenant, Avon, had signed one of the year's biggest leases, at 777 Third Avenue. The owners of the former Exxon building began searching for someone to replace their leading lady, and by May they were rumored to be in talks with Natixis.
The French money manager is, in fact, set to take 180,000 square feet at the base of the building in Rockefeller Center, the New York Post reported. Natixis will consolidate offices at 9 West 57th Street and 1345 Sixth Avenue, as well as some employees already in 1251 Sixth. Asking rents in the building are around $70 a square foot.
The embattled firm would likely prefer to forget the past couple of years, after they lost money connected to the Madoff scheme and sparred with Goldman Sachs over terminated credit default swaps.
John Cefaly and Rob Lowe of Cushman & Wakefield represented the tenant. Peter Shimkin of Newmark Knight Frank represented landlord Mitsui Fudosan.