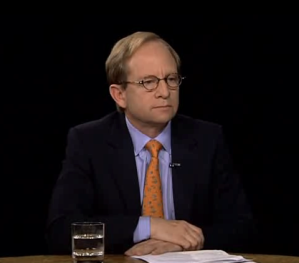 There have been some excellent, low-voice, black-room Charlie Rose interviews this year, as always. Just last month, in fact, there was one with troubled financier Steven Rattner. He was back last night, but this time he had spectacles on. Another difference is that his disgust for New York State Attorney General and Governor-Elect Andrew Cuomo was spilling out of his scowls.
Though Mr. Rattner's been more open about his feelings for the man, now that Mr. Cuomo has finally sued him because of a connection to the New York State pension fund kickbacks scandal, it's now official that the two are nemeses. There are times in the interview — never mind that Mr. Rose's show is financially backed by the financier, and the men are friends — that Mr. Rattner practically twitches with disgust at the mere topic. (Watch his face just after the nine-minute mark.)
And though Peter Lattman did a wonderful job of recapping the highlights, there are so many glorious lines that it's almost inevitable some would be left out. Consider, for example, what is probably Mr. Rattner's finest moment: "You were friends, you and the Attorney General?" Mr. Rose asks, after Mr. Rattner uses the word "charade" to describe the investigation.
"No," Mr. Rattner answers.
"You would characterize as 'not-friends?" Mr. Rose presses.
Then Mr. Rattner really gets going. "I would characterize it as a distant relationship. I was never a part of the Andrew Cuomo fan club." Snap! "We knew each other from Democratic politics, he certainly tried to cultivate my support, going back to when he was at HUD, and had me into lunch in the Secretary's dining room, and so on and so forth. But I was frankly," he says, raising his eyebrows momentarily, "never president of his fan club, or even a charter member." Damn.
ABC News likes the quote, too, though its headline does not give Mr. Rattner's word choice its full due.