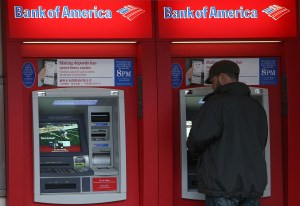 Charles Schwab, the Federal Home Loan Bank of Chicago and others are the latest entrants into an emerging legal brawl mortgage securities whose alleged flaws have emerged as a byproduct of the foreclosure crisis. Bank of America today disclosed that a host of plaintiffs are questioning the validity of some $375 billion worth of bonds they bought from BofA:
Although the allegations vary by lawsuit, these cases generally allege that the offering documents for more than $375 billion of securities issued by hundreds of securitization trusts contained material misrepresentations and omissions.
It was only yesterday that BofA fired back at major bond investors (including the New York Federal Reserve) who'd previously announced they wanted Bank of America to buy back mortgages that the bank packed into $47 billion in securities and then sold. The bank said that the legal actions contemplated by BlackRock, PIMCO and the New York Federal Reserve would accelerate foreclosure activity. A soured economy, and not BofA, was responsible for any losses suffered on those securities, the bank said.
Looks like BofA may have to trot out similar arguments regarding a whole new basket of products sold to a whole new set of irate investors.
mtaylor [at] observer.com | @mbrookstaylor