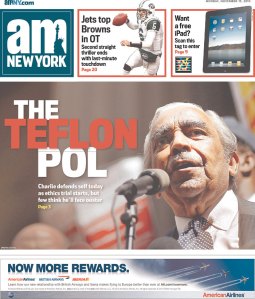 The real stakes in today's Charlie Rangel ethics hearing: "Whether Congressional historians will regard him as base and crooked, or noble."
Rangel could seek to delay the hearing.
Rangel says he hasn't given the trial much thought.
Meet Blake Chisam, who will be making the case against Rangel.
Rangel remains "confident."
Five key races in New York remain undecided.
Henry Stern on Cathie Black: "To select a chancellor with no background in education is a daring leap of faith. It's very difficult to make an argument on the merits."
Norman Siegel called the appointment of Black "cronyism."
Andrew Cuomo's ex-brother-law, Robert Kennedy, Jr., will be on his transition team.
And Cuomo has tasked Rudy Giuliani with staffing the public agencies that will keep the state safe.
Did Cuomo rebuff federal prosecutors who wanted him to go after Joe Bruno?
Mitch McConnell could kill the 9/11 Health Bill.
Bloomberg will be joining the state's congressional delegation tomorrow to get the bill passed.
Chuck Schumer on extending the Bush tax cuts: "Better to put the money into deficit reduction and creating jobs than giving it to millionaires and billionaires."
Are churches in Brooklyn slated to close paying the price for tangling with Vito Lopez?