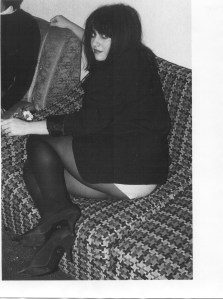 The five-night music festival in May 1978 at the legendary gallery and performance venue Artists Space, at 105 Hudson Street in Tribeca, had no title. The flyers on the fences around vacant lots in Lower Manhattan said only "BANDS" with a lineup: Terminal, Gynecologists, Theoretical Girls, Daily Life, Tone Death, Contortions, DNA, Mars, Teenage Jesus and the Jerks. In the audience were The Village Voice's Robert Christgau, John Rockwell from The New York Times and Brian Eno, in town to produce the Talking Heads' second album. The Contortions' set on Friday night was halted when James Chance, the group's singer, and Mr. Christgau got into a fistfight. Tickets cost $3.
The Artists Space festival was No Wave's apogee. Theoretical Music: No Wave, New Music, and the New York Art Scene, 1978-1983, an awkwardly titled three-day event last week at Issue Project Room in Gowanus, organized by Branden Joseph and David Grubbs, was the latest in a series of critical reconsiderations of the movement. If punk was nihilism sprung from political and economic turmoil, No Wave rose from the ashes of such gloom, when even nihilism had expired. The style disregarded melody and tone in favor of rhythm and texture. Its influence remains in the sounds emanating from the ever healthy population of makeshift clubs in New York, but the movement was little more than a cultural blip in New York history: the brief harmony of music, visual art and film in downtown Manhattan, showcased nightly at New Cinema on Astor Place, at small venues like CBGB and quasi-legal spaces like the Mudd Club.
The first night of Theoretical Music was a rare screening of James Nares' film, Rome '78, "the first and only No Wave epic," in the words of Mr. Joseph. Its coarse style is like a 90-minute definition of No Wave's broad umbrella. Starring the major filmmakers and musicians of the downtown scene–Eric Mitchell, Lydia Lunch, John Lurie, David McDermott and Mr. Chance, to name a few–the film retells the plot to murder Emperor Caligula, played by a skeletal Mr. McDermott (with a considerable gap in his teeth), set on the Lower East Side. There is a script but no one is following it. The camera work is filled with quick edits that embellish the actors' flubbed lines, laughter and nose picking. Mr. McDermott's Caligula is whining and pathological.
"I am God!" he shouts, balancing his gaunt frame on a brick ledge. "God of the universe!" Then he starts doing a jig. As his throat is cut in the film's finale, he spews fake blood and repeats over and over, as if reciting some ancient incantation, "I'm still alive."
"I heard laughter, which was good," Mr. Nares said after the film was over. "I think I saw people leave and then they came back again. Very encouraging. This was not very well received and we intended it that way."
The second night featured two panels of No Wave's exemplary players. The first consisted of Taro Suzuki, John Miller, Dan Graham and Kim Gordon, and was moderated by Mr. Joseph. Everyone was wearing black or gray, except for Mr. Graham, who wore a floral print shirt.
"We were raging against the death of modernism," said Mr. Suzuki, as if he were telling everyone what he had for lunch. He played a piano with his forehead in the band Youth in Asia. "We just didn't see any place for visual arts to go. So we expressed this rage with a band. We really didn't have any musical training. We were just making noise with a beat."
No Wave, then, was a deliberate attempt to make rock into art and to infuse the arts with rock ethos. Ms. Gordon remarked that this chiasma had to do with the slumlike conditions of downtown. "Real estate in New York was undefined," she said. "So you had the Mudd Club and places that were springing up that weren't legal."
Before she could finish her thought, Mr. Graham interjected, "Because Nixon said he wanted the silent majority to destroy the city." From there it was his show. If the conversation lagged even momentarily, Mr. Graham would go off on a long tangent, like a switch had been turned on. In a single exhausting sentence, he mapped the specifics, for him, of No Wave's connections between art and music:
"I'd written an article for Screen magazine–I was very involved with Screen magazine, which was publishing the writings about the women's movement from France, and I was invited by Mary Kelly, who's a friend of mine and whose work I supported, to write something for Screen magazine, so I wrote an article called 'New Wave Feminism,' which was about comparing Julia Kristeva to Teenage Jesus and the Jerks; I also talked about the Raincoats, and the article, uh, uh, was turned down by Screen because they were really embarrassed that I should compare their French feminist heroines with all-girl rock bands, and uh, uh, my interest was when you saw girls playing together in these groups, that was very exciting for me as a male spectator, uh, so Kim Gordon wrote an essay called 'Trash Drugs and Male Bonding,' which I helped to get published in Real Life Magazine, and, uh, it was also a strategy as a teacher to Kim." The audience took a deep breath.
THE SECOND PANEL included Nina Canal, Byron Coley, Peter Gordon, Thurston Moore and Ned Sublette. After everyone struggled to answer the question, "Where were you on January 1st, 1978?" the conversation disintegrated randomly into a discussion of disco. Mr. Moore grew silent and frowned.
"Uh, I'm a little uncomfortable with this whole disco thing," he said.
The discussion was over when Mr. Gordon, of the Love of Life Orchestra, argued that No Wave ended with the beginning of the AIDS epidemic. No one disagreed with him.
No Wave's beginning and end is still debatable, but the collection of No Wave music from 1978 Mr. Eno produced, No New York, featuring the four bands that performed on the last two nights of the Artists Space festival, at least gave the movement proof of its existence as well as a definitive moniker. It's composed of 16 relentless songs that make Richard Hell sound like Barry Manilow, four each by the Contortions, Teenage Jesus and the Jerks, Mars and DNA. Appropriately, the album announcing No Wave's arrival also sounded its death knell. By the time Sonic Youth, easily the most recognizable of any group to carry the No Wave label, played their first show, in 1981, many of the bands that performed at Artists Space no longer existed.
"Communities are always under the radar until they become bigger," Mr. Joseph said after the second night of Theoretical Music. "You only know of a community, unless you're in it, when it is no longer a community."
The final night's performance by the newly reunited Ut, one of No Wave's key groups, teetered between impressive and awkward. The three women in the band were stately and attractive. Jacqui Ham moaned rambling lyrics and played chords on the guitar that did not resemble guitar chords. Nina Canal overwhelmed the music with tribal rhythm. Sally Young, wearing a tight leather dress, sang in a throaty croon while attacking her guitar like it was some long-lost enemy. They stared ferociously at the audience, daring them to listen, but also with disbelief–this was their first concert in New York since 1990. At times, they approached the frightening vigor of their early days.
In between songs, however, they bore the marks of a band that had not played together for 20 years. As a kind of stage banter, they derided their performance. They tuned slowly and wordlessly. They were tired and defeated early into the set.
"This is exhausting," Ms. Ham said at one point, looking and sounding like she meant it.
No Wave is dead. Long live No Wave: 105 Hudson Street is now home to Nobu, the Robert De Niro-owned sushi restaurant where patrons can snack on a Lobster Shiitake Salad, $39 a plate.
mmiller@observer.com