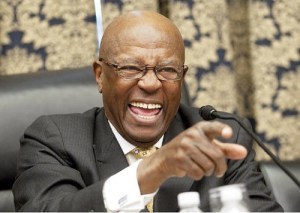 New York's congressional delegation are lobbying their fellow Democrats to keep Brooklyn congressman Ed Towns in place as the ranking member of the House committee on Oversight and Government Reform.
"He has always been an advocate for improved efficiency in the government's delivery of services, equal opportunity in access to government programs and contracts, and strong internal and external oversight," the Democratic delegation writes in a letter to their colleagues. "During the coming Congress, we will need determined and tenacious leadership to battle any partisan attacks on the Administration that Republicans may launch."
Towns led the committee during the last Congress, but he is receiving a fight for the title of ranking member from Dennis Kucinich, who has argued that Towns is no longer up for the job. In his own letter to colleagues, Kucinich wrote, "We cannot simply stand by idly and hope that such a reckless approach to the use of the power of the chair will not happen, especially since it is not only being promised, but demonstrated by the person who will hold the gavel."
The letter was first obtained by Politico.
California Republican congressman Darrell Issa will take over the leadership of the committee from Towns, and he has been promising an onslaught of investigations into the Obama administration.
Towns has submitted his own letter in which he writes, "I will also work closely with my fellow committee Democrats to form a bulwark against any politically motivated investigations. Any attempt to use this Committee as a political weapon to tear down this Administration is intolerable and I will use every tool at my disposal to ensure this does not occur."
Copies of both letters below: