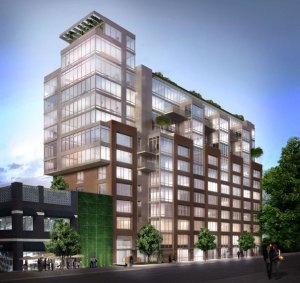 Murray Hill, home of frat boys, basement bars and falafel stands, seems ripe for an NYU invasion. The school's medical center just snapped up a condo for $8.95 million at 303 East 33rd Street, close to First Avenue and the NYU Langone Medical Center.
The sale hit public records yesterday evening, and will give the school a commercial condo in Toll Brothers' glassy new apartment building at 303 East 33rd Street, which enjoys both the distinction of being the area's first green building and the developer's least controversial one. The seller is KTL 303 LLC, an affiliate of Toll Brothers and Kibel Companies.
This marks New York University's second high-priced commercial condo purchase since the kiddies came back to school this fall, when the university proper also dropped $10 million on a condo in the Silk Building, at 14 East 4th Street.
The medical center also recently leased more space for a new women's medical center further uptown.
It's not the Financial District, but this should still make at least a few Village residents happy. Earlier this year, NYU dropped $65 million on the Forbes building at 60-62 Fifth Avenue and bought Founders Hall, a 26-story dorm for for $134 million, boosting its saturation of the neighborhood.
It will soon seek approval from the Landmarks Preservation Commission for a 400-foot tower at the I.M. Pei Silver Towers complex, as well as other development on the so-called super blocks, a move that has incensed neighbors even more than usual.
Whether this new purchase helps alleviate pressure on NYU's "core" campus or is simply another piece of its growing medical empire is unclear–representatives for the university and Toll Brothers were not immediately available for comment.
UPDATE: A spokeswoman for NYU Langone contacted us Thursday and it's the latter. NYU Langone Medical Center purchased the commercial condominium to house its Department of Plastic Surgery and the Institute of Plastic and Reconstructive Surgery.
lkusisto@observer.com