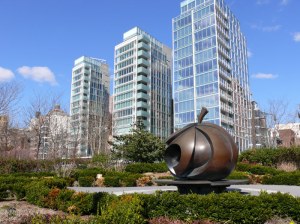 The only thing more famous than Richard Meier's Perry Street lofts, those glassy box spires looking out on the Hudson River, is the people inside.
If you're looking to get in and can't afford the eight-figure price tags, perhaps a five-figure rental will do. But not just any apartment will suffice. How about Nicole Kidman's unit, now asking $45,000. That's just barely under the median annual income for the average New Yorker. To be spent once a month on an apartment.
Star. Power.
The listing is not available online, but The Real Deal reports that Halstead's Richard Orenstein is the man to talk to. It appears to be the only unit available in the building–another slipped off the market at $25,000 in September, according to Street Easy–so while the price may seem high, it would be best to act fast.
Kidman and her husband Keith Urban have traded in one designer apartment for another, having moved into 200 11th Avenue, home of the famous sky garages. They still boast those wonderful Hudson views, though.
mchaban@observer.com