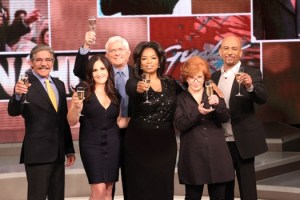 Today's episode of the Oprah Winfrey show was a very special episode in which Winfrey sat down with some of her daytime talk competitors who are no longer on the air. Winfrey's TV talk reunion included Phil Donahue, Ricki Lake, Geraldo Rivera, Sally Jesse Raphael, and Montel Williams.
At one point Winfrey awkwardly reminisced with the group about how none of them were ever able to beat her ratings.
"One of the things that we are all proud of, our team, is that we've been on for 25 years, we've been the number one talk show for 25 years … but there were a few days when some of you actually beat us in the ratings and i hear you guys remember those days?" Winfrey asked.
"I remember one of them," Rivera said.
Raphael said she "never once" managed to top Oprah's ratings.
"We just wanted to be you, have your money, live your life," joked Raphael.
Winfrey mostly just laughed and laughed.