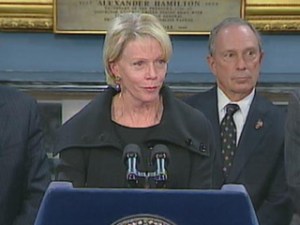 State education commissioner David Steiner has released the names of the screening panel who will weigh in on Cathie Black's waiver request, and it is hard not to notice the level of education expertise that the panel has and that, by comparison, Black lacks.
The panel includes the CEO of the Baltimore schools; the superintendent of the Rochester school district; the president of Columbia Teacher's College; a senior lecturer at the Harvard Graduate School of Education; and the former executive vice-chancellor for education affairs at CUNY.
Steiner notes that state law empowers him to "grant a waiver to an 'exceptionally qualified candidate who does not meet all the graduate course or teaching requirements in law if he finds that the candidate has 'exceptional training and experience' which are the 'substantial equivalent' of such requirements."
The panel will come out with a recommendation, and then Steiner, notes he will "apply the law to the facts presented and render a decision on the waiver request."
On his radio show this morning Bloomberg sounded optimistic that Black would get the waiver.
"In the end I think the state, they are smart people, and they understand this is what mayoral education is all about," he said.
Full release and roster below:
COMMISSIONER STEINER APPOINTS ADVISORY SCREENING PANEL
TO CONDUCT REVIEW PROCESS

State Education Commissioner David M. Steiner has received a request from Mayor Bloomberg seeking a waiver for Cathleen P. Black to serve as New York City's Schools Chancellor and has begun the process of reviewing and evaluating that request.

Education Law §3003(3) provides that the Commissioner may grant an exception or waiver to the precise preparation and experience required by law for a superintendent's certificate. Specifically, the Commissioner is empowered to grant a waiver to an "exceptionally qualified" candidate who does not meet all the graduate course or teaching requirements in law if he finds that the candidate has "exceptional training and experience" which are the "substantial equivalent" of such requirements.

The process for review and consideration of a waiver request is outlined in the Commissioner's regulations (8 NYCRR §80-3.10[b][3][iii]). Commissioner Steiner will follow the process outlined in those regulations as was done with prior requests.

Specifically, following well established precedent, the Commissioner will convene an advisory screening panel consisting of representatives of the State Education Department and appropriate educational and philanthropic organizations for review and advice. The members of the screening panel are listed below. Dr. Susan Fuhrman, President of Teachers College, Columbia University will chair the panel.

The panel will be provided the application and supporting documentation provided by the Mayor's office for its review and consideration. The Commissioner will give guidance to the panel about the questions it should consider in reviewing the application and materials.

The Commissioner will carefully review and consider the advice he receives from the panel. He will then apply the law to the facts presented and render a decision on the waiver request.

The request for a waiver of specified training and experience is part of a credentialing process. That process comprises an objective review of education, training, and experience to determine if an applicant possesses the knowledge, skills, and experience that qualify him or her to perform the functions authorized by the credential.

Nothing in the law or regulation prescribes a time frame for this process. However, the Commissioner is mindful of Chancellor Klein's scheduled date for departure and the need for prompt action.

Screening Panel

Andres Alonso

Dr. Alonso has served as the CEO of Baltimore's schools since July 2007. He earned a B.A. Arts in history and English from Columbia University in 1979; a Juris Doctor from Harvard Law School in 1982; a Master of Education from Harvard in 1999; and a Doctor of Education from Harvard in 2006. Dr. Alonso worked as a corporate lawyer at Hughes, Hubbard & Reed in New York City from 1982 to 1984; a special education and English as a Second Language teacher in Newark, N.J. from 1986 to 1998; a superintendent's intern in Springfield, Mass. from 1999 to 2000; chief of staff for teaching and learning at the New York City Department of Education from 2003 to 2006; and as Deputy Chancellor for Teaching and Learning in New York City from 2006 to 2007.

Jean-Claude Brizard

Mr. Brizard serves as the Superintendent of the Rochester City School District. He holds a Master's Degree in School Administration & Supervision from the City College of New York and a Master's Degree in Science Education from Queens College, as well as a Bachelor's Degree in Chemistry from Queens College. Prior to coming to Rochester, he served as a Regional Superintendent, supervising more than 100 K-12 schools serving over 100,000 students in three New York City geographic districts. Previous positions in New York City included: Executive Director for Secondary Schools; Region 8 Instructional Superintendent; high school principal; high school physics teacher; and junior high school science teacher. Mr. Brizard is a graduate of the Superintendents' Academy of the Broad Center for the Management of School Systems. He is also an Executive Committee member of the American Association of School Administrators.

Michele Cahill

Michele Cahill is vice-president for national programs and director of urban education at Carnegie Corporation of New York where she leads the Corporation's strategy to meet the twin goals of contributing to societal efforts to create pathways to educational and economic opportunity by generating systemic change across a K-16 continuum, and to create pathways to citizenship, civil participation and civic integration in a pluralistic society. Prior to rejoining Carnegie Corporation in 2007, she held the position of senior counselor to the chancellor for education policy in the New York City Department of Education. Ms. Cahill was a member of the Children First senior leadership team that oversaw and implemented the full-scale reorganization and reform of the New York City public schools. She played a pivotal role in the development of Children First reforms in secondary education, district redesign and accountability, new school development, and student support services. Ms. Cahill has a B.A. in Urban Affairs from Saint Peter's College, a Masters of Arts in Urban Affairs from the University of Wisconsin-Milwaukee, and she pursued doctoral studies in social policy and planning at Columbia University where she was a Revson Fellow.

Ronald F. Ferguson

Dr. Ferguson is a Senior Lecturer in Education and Public Policy at the Harvard Graduate School of Education and the Harvard Kennedy School. He is also an economist and Senior Research Associate at the Malcolm Wiener Center for Social Policy. He has taught at Harvard since 1983, focusing on education and economic development. His research and writing for the past decade have focused on racial achievement gaps, appearing in a variety of publications. His most recent book is Toward Excellence with Equity: An Emerging Vision for Closing the Achievement Gap. He is the creator of the Tripod Project for School Improvement and also the faculty co-chair and director of the Achievement Gap Initiative at Harvard University. Ferguson earned an undergraduate degree from Cornell University and Ph.D. from MIT, both in economics.

Susan Fuhrman

Dr. Fuhrman currently serves as President of Teachers College, Columbia University. She earned a B.A. in History, with highest honors, from Northwestern University in 1965; an M.A. in History from Northwestern University in 1966; and a Ph.D. in Political Economy from Teachers College, Columbia University in 1977. Dr. Fuhrman's research interests include state policy design, accountability, deregulation, and intergovernmental relationships. She has also conducted research on state education reform, state-local relationships, state differential treatment of districts, federalism in education, incentives and systemic reform, and legislatures and education policy. She is currently a co-principal investigator of a large project that studies high school response to accountability pressures and use of instructional assistance in six states.

Louise Mirrer

Dr. Mirrer has served as President and CEO of the New York Historical Society since 2004. She holds a Ph.D. in Spanish and Humanities from Stanford University and has over 20 years experience as an academic administrator, most recently as Executive Vice Chancellor for Academic Affairs at CUNY. Dr. Mirrer has published widely on language, literature, medieval studies, and women's studies, both books and articles, in Spanish and English.

Bernard Pierorazio

Mr. Pierorazio is Superintendent of the Yonkers Public Schools, the fourth largest district in New York State. Prior to becoming Superintendent, he served as the Deputy Superintendent, Assistant Superintendent, and Principal of Saunders Trades and Technical High School. Mr. Pierorazio is a graduate of the Yonkers Public Schools District, continued his studies at Central Connecticut State University, the College of New Rochelle, and Iona College, earning degrees in History, Special Education, and Administration and Supervision.

Kenneth Slentz

Mr. Slentz is the Associate Commissioner for the Office of District Services for the New York State Education Department. In that capacity, he oversees education design and technology, including the build out of the Board of Regents virtual school initiative; school district and Boards of Cooperative Educational Services (BOCES) support and coordination, including the coordination of professional development; and school safety. In his 17 years in public education, Mr. Slentz has served as a teaching assistant, teacher, curriculum director, principal and school district superintendent. He holds an AAS in Liberal Arts from SUNY Cobleskill, a B.A. in Political Science from SUNY Geneseo, and an M.S. in Education from SUNY Oswego.